Receive special sessions at UNESCO headquarters in France
Speeches and performances last about an hour.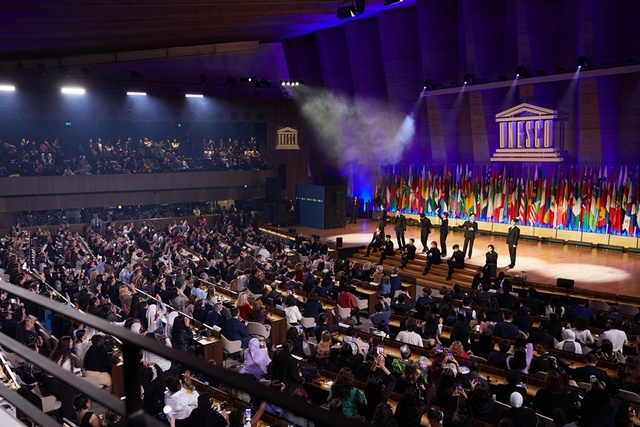 [The Fact | Reporter Jeong Byeong-geun] Group Seventeen successfully completed the UNESCO speech.
Seventeen had the exclusive right to participate in a special session at the 13th 'UNESCO Youth Forum' held at UNESCO headquarters in Paris, France on the 15th (Korean time) and gave a speech and performance in about an hour. Attending the event were UNESCO Director General Audrey Azoulay, Secretary General of the Korean National UNESCO Committee Kyung-gu Han, representatives of UNESCO member countries (194 countries), about 170 young people and 550 visitors in general. .
In the main hall of UNESCO, Seventeen had a cheerful but serious voice calling for action from youth and future generations. Members Seungkwan, Jun, Woozi, Mingyu, Joshua Vernon (in order of speaking) spoke on behalf of the group in three languages (Korean, English, Chinese). Immediately after the speech, the group performed 5 songs containing the group's unique positive message: 'Let's get through this together instead of being discouraged'.
From small individuals coming together to form a large team, to stories of meeting in their teens and growing up together as each other's teachers. Representatives of young people from all over the world listened attentively to Seventeen's authentic coming-of-age story for nearly an hour. Some fans even wiped away tears when the growing pain of the 13 members was revealed.
Seungkwan, the first speaker, began by mentioning the special relationship between his home island of Jeju and UNESCO. Seungkwan said: "Jeju Island is the first island in the world to be designated by UNESCO as an area in three natural environment categories at the same time" and added: "The boy dreamed of a future on the island designated designated as a World Natural Heritage Site. of UNESCO standing at UNESCO headquarters today." I took it off.
Jun said: "From the first day I met the members in 2012 until now, there is one thing I am sure of every day. It is difficult to do it alone but we can do it as 13 of us." Let's try together. We belong to each other." He said: "I have created and gradually become a better version of myself. Each of us may not be perfect, but together, we are the best team."
We also talked about the process in the past, things were not smooth. Woozi said, "From the beginning, we could not expect to be as successful as we are now. Rather, there are many unfavorable views saying 'We will fail'." "The important thing is whether we can do it or not," he continued. work together to overcome these limitations or not." "I looked back.
Mingyu mentioned the first donation activity that made Seventeen realize the importance of sharing. He said: "I received my first payment in the fall of 2016, a year after I launched. The amount was not large but I wanted to share this happy event with someone" and added: "I gave 13 goats named after members as gifts to children in Tanzania, Africa."
He added that during this process, he received a letter from the children with the content: 'I will raise goats well for my dream' and all the members were so touched that they Start fundraising activities.
Joshua promised to expand Seventeen's sharing, which started with 13 goats, to the global level with UNESCO. Joshua promised: "I intend to build a school to build educational infrastructure in the Third World. I will also support the continued operation of an education discussion forum. I will actively Acting as an ambassador for UNESCO to promote the importance of education."
At the end, Vernon shouted out some of the lyrics of the 5 songs sung that day, continuously emphasizing the message that Seventeen wanted to convey to the world. "Please open a new future together," said Vernon. "If we take care of each other, we can become everything the world needs. The moment we are together, we will become courageous for countless tomorrows and move forward".
After the speech, Seventeen lit up UNESCO's main hall with a music stage. They passionately sang a total of 5 songs: '_WORLD', 'Darl+ing' (ENG ver), 'Headliner', 'God of Music' and 'Let's Go Together' (ENG ver). . It was a period where the team's unique joyful energy and free spirit stood out.
Seventeen signed a business agreement with the Korean National Committee for UNESCO last August and is implementing the #GoingToget education campaign