This is the first time achieving a solo achievement on the Global chart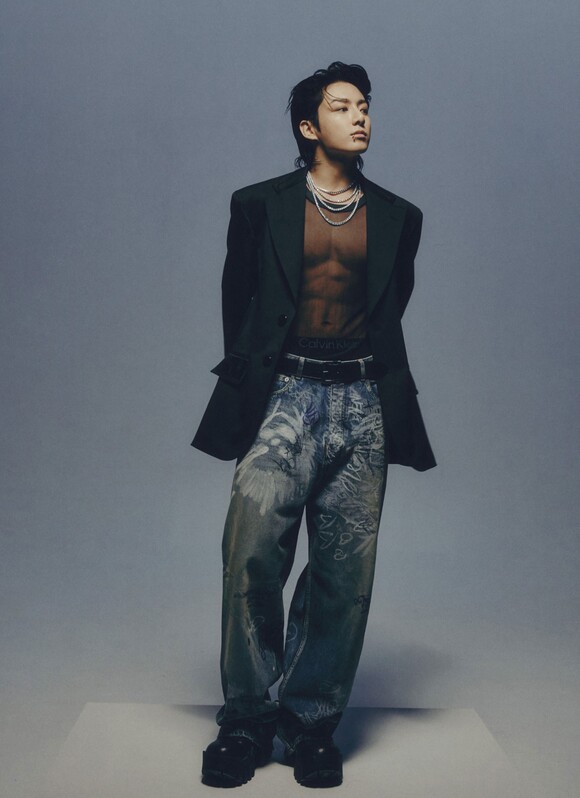 [The Fact | Reporter Jeong Byeong Geun] BTS's Jungkook set a record by dominating the US Billboard chart.
In the latest chart (as of November 18) announced by Billboard, an American music media agency, on the 14th (Korean time), the title song 'Standing Next to You' in the album Jungkook's solo 'GOLDEN' charted 'Standing Next to You', solo singles 'Seven' (feat. Lato), '3D' (feat. Jack Harlow) and 'TOO MUCH', a collaboration song with The Kid Laroy Central, both on the main song chart, also reached the Hot 100.
'Standing Next to You' entered the Hot 100 at number 5, becoming solo artist Jungkook's 6th Hot 100 song. In this chart, 'Seven' re-appeared at No. 49, '3D' increased 42 places compared to last week to No. 58, and 'TOO MUCH' ranked No. 94.
In addition, songs included in 'GOLDEN' including 'Yes or No' (No. 4), 'Hate You' (No. 7) and 'Shot Glass of Tears' (No. 10) ranked ranked on the Bubbling Under Hot 100 . Bubbling Under Hot 100 is a chart of songs that unfortunately did not make it into Billboard's main song chart, the Hot 100.
'Standing Next to You' topped the Global 200 and Global (excluding the US), ranked by counting streams and sales in over 200 countries/regions around the world. In particular, Jungkook brought 3 songs to the top of two global charts this year including "Seven", "3D" and "Standing Next to You".
Among solo artists worldwide, Jungkook is the first artist to have more than three songs top two global charts in one year. As a group, the single record was set by BTS in 2021 with 'Butter', 'Permission to Dance' and Coldplay's collaborative track 'My Universe'. Jungkook currently holds major records as a group and a solo artist.
Jungkook entered the main Billboard 200 album chart at No. 2 with 'GOLDEN', setting the record for highest ranking by a K-pop solo singer. GOLDEN took the No. 1 spot in Top Sales Album and Top Current Album respectively.