The MV released on the official YouTube channel has surpassed 5 million views
The first 'stadium concert' will be held at the Sangam World Cup Stadium in Seoul in May next year.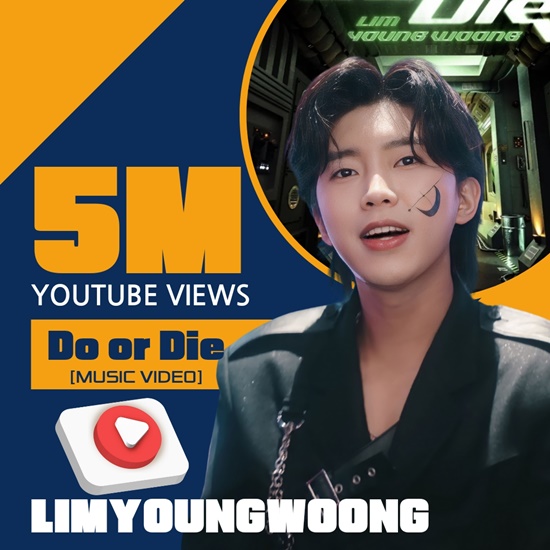 [The FactㅣReporter Kang Il-hong] The music video for singer Lim Young-woong's new song 'Do or Die' has exceeded 5 million views.
The new digital music video 'Do or Die' was first released on Lim Young-woong's official YouTube channel on the morning of October 8, and the video exceeded 5 million views as of the 15th.
As soon as it was released, this MV recorded a high number of views and ranked first in trending videos on YouTube and ranked first in popular music.
Immediately after releasing the audio source at 6:00 p.m. on October 9, it topped the Melon TOP 100 music chart within 3 hours of its release and dominated most domestic and foreign music sites. These include the real-time Genie and Bugs pages.
'Do or Die' is a song that contains the passion to become the main character on the stage of life and live a day without regrets. Lim Young-woong participated in writing the lyrics and once again became a singer-songwriter after composing it myself. the songs 'London Boy' and 'Grains of Sand'. He is showing his side as a human being.
Through this new song, Lim Young-woong became a hot topic when showing a flashy and powerful performance, 180 degrees different from the gentle and delicate charm he had shown until now. now.
After successfully concluding the Seoul performance '2023 Lim Young-woong National Tour Concert - IM HERO', Lim Young-woong will meet the audience again at Daegu EXCO East Building for three days starting from the 24th.
After completing the concerts in Busan, Daejeon and Gwangju early next year, they are scheduled to be held at the Sangam World Cup Stadium in Mapo-gu, Seoul for two days in May.