On the 15th, he appeared on KBS2's 'Ok Moon Son' and showed off his extraordinary eloquence.
"I received a custom microphone as a wedding gift.".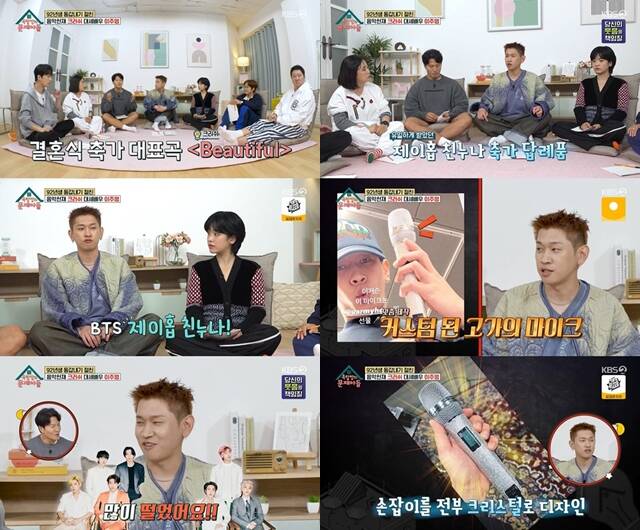 Source: Broadcast screenshot
[The Fact|Reporter Park Ji-yoon] Singer Crush shares his thoughts while singing a congratulatory song at BTS member J-Hope's sister's wedding.
Crush appeared in KBS2's entertainment program 'Problem Son of the Rooftop' (hereinafter referred to as 'Problem Son of the Rooftop Room'), broadcast on the 15th. He appeared with His best friend and actor Lee Joo-young, who is the same age and attracted attention when revealing an episode in which he sang a congratulatory song and received a gift at his sister's wedding J-Hope girl.
First, Crush started by saying, "Of all the stages I've participated in so far, the heaviest song is the national anthem." He said that he sang a congratulatory song at the wedding of Park Shin-hye, Choi Tae-jun, and Dynamic Duo member Choiza, and surprised everyone by adding, "I also sang a congratulatory song at J-Hope's sister's wedding."
After that, Crush made everyone laugh when he honestly confided, "BTS stood in front of me and I felt like I was going through an audition. I was very nervous. I want to do better."
Crush then revealed that he received a congratulatory gift from J-Hope. He expressed his feelings, "They gave me a very beautiful custom microphone. The handle is made of crystal. The sound quality is also very good. After experiencing that microphone once, I can't use it." anything else".
Meanwhile, Crush and Lee Joo-young revealed that they became friends after appearing in Crush's music video and still maintain a close relationship. In particular, Jooyoung Lee revealed that she goes to Crush's concert every year, showing their close friendship. However, Crush made everyone around laugh when he revealed that he had never been to Lee Joo-young's movie preview.
Meanwhile, Crush released his third regular album 'wonderego' on the 14th. This regular album was released four years after his second regular album 'From Midnight To Sunrise'.
'wonderego' opens up its own expanded musical world by organically connecting wonder who wants to become more perfect and Crush's imperfect, autobiographical self.