King Hyeonjong discovers the truth about Mokjong's assassination and confronts Kang Jo.
Gang Gam-chan advised King Hyeonjong to ascend the throne of Khitan Emperor.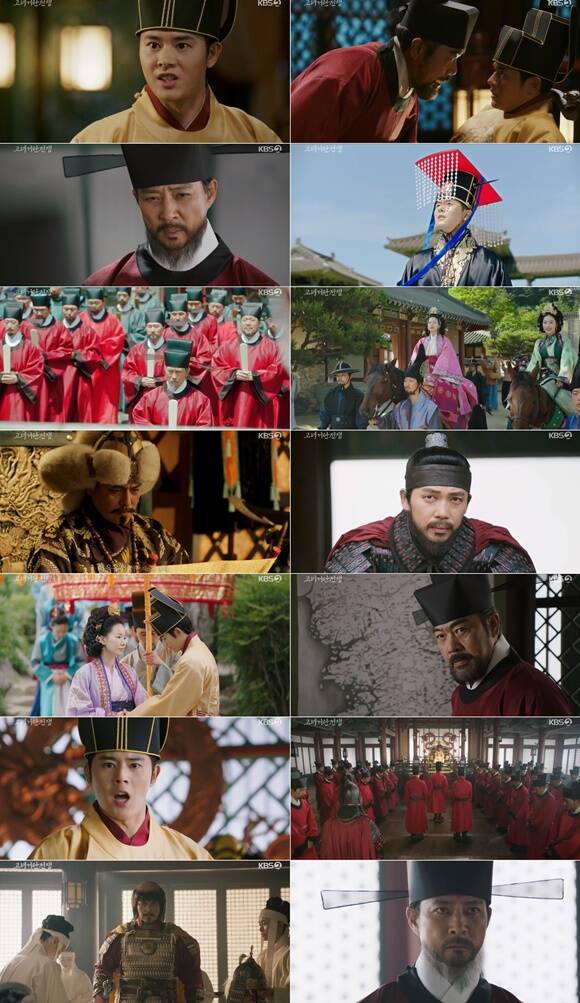 Source: KBS
[The Fact | [Reporter Gong Mina] 'Goryeo Khitan War' While Khitan emperor Yayul Yongxu declared a second war with Goryeo, using Gang Jo's coup as justification, the viewership ratings broke records of theirs.
According to Nielsen Korea, a viewership ratings research company, on the 20th, the 4th episode of KBS 2TV's historical drama 'Goryeo Khitan War' (written by Lee Jeong-woo, Jeon Woo-seong and Kim Han- sol director), which will be broadcast the previous day, recorded a viewership rating of 7.0% based on households nationwide. In today's episode, Khitan emperor Yayul Yongseo (played by Kim Hyuk) increased tensions by predicting a second war on the grounds of harming King Mokjong of Goryeo (played by Baek Seong-hyeon played by Khitan), who was crowned by the Khitan.
On this day, Kang Gam-chan (played by Choi Soo-jong), who was cast as Yebusirang, visited Gang Jo (played by Lee Won-jong) with a letter personally written and said to To prevent war, he had to quickly send messengers to Khiet to receive the new emperor's enthronement. Furthermore, Gang Gam-chan predicted that the Khitan people would start a second war under the pretext of Gang Jo's coup. Gang Jo replied that if war broke out because of him, he would destroy the Khitan army himself.
Khitan Emperor Yayul Yongseo (played by Kim Hyuk), who received a letter containing news of Goryeo's new emperor ascending the throne, said that he would postpone the investiture ceremony until he knew the details of why Mokjong, who was crowned by Khitan, died, was revealed.
Gang Gam-chan, who heard the Goryeo envoy say that Yayul Yongseo's mother had passed away, sent a messenger to Hyeonjong (played by Kim Dong-jun) and advised that he must receive the ordination even during the process. mourn.
Meanwhile, Gang Gang sent messengers to Seogyeong, Tongju, and Gwak Ju-seong, instructing them to make sword tea from now on. The military officer and Jang Yeon-woo (played by Lee Ji-hoon) begin comprehensive preparations for war, including assessing enemy numbers and stockpiling three months' worth of food for the soldiers.
Hyeonjong, who had made King Seongjong's two daughters queens, worried that the Khitans would invade Goryeo again. Queen Wonwon (played by Lee Sia) witnessed this scene and comforted him by saying that he would protect her at all costs. Envoys returning from Khitan revealed that Yayul Yongseo not only knew the reason for the coup but also how King Mokjong ascended the throne. King Hyeonjong stood up on the spot and became angry, demanding the arrest and exile of those who committed such reckless behavior. Gang Jo, who was hearing this, ordered mobilization and threatened to prepare for war, creating a tense confrontation.
At the end of the broadcast, the second full-scale war between Goryeo and Khitan had begun. The Khitan envoy visiting Gaegyeong added to the sense of crisis by saying that Yayul Yongseo would soon stop mourning for three years and gather all the Khitan soldiers. At the same time, the invasion of the Khitan army, with Yayul Yongseo removing his mourning clothes and donning armor, kicked up dust, tensions increased.
Episode 5 of 'Khitan War' will be broadcast at 9:25 p.m. on the 25th.