Kim Yoo Jung and Song Kang, marriage contract for coexistence ...... Will air the first episode on the 24th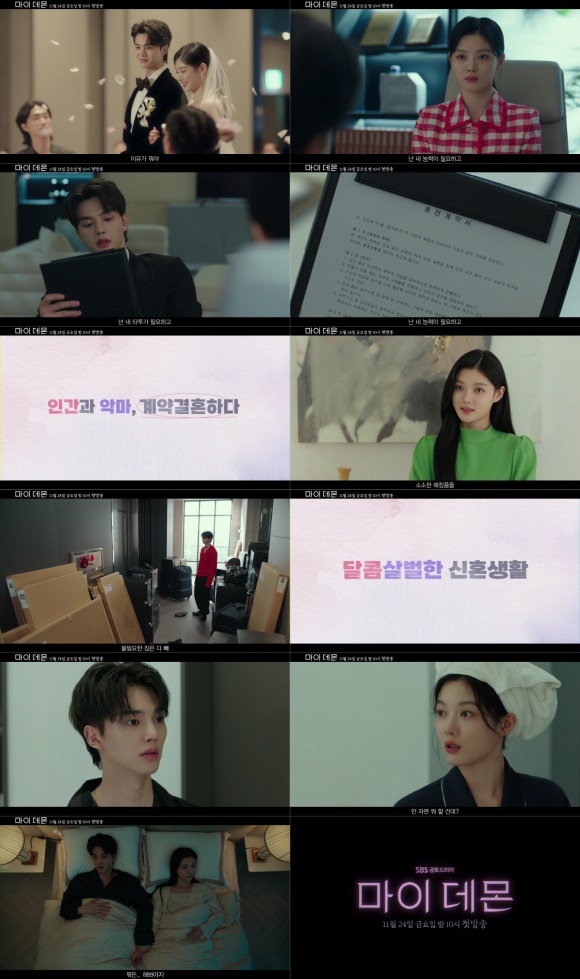 Source: SBS
[The FactㅣReporter Kim Saet Byeol] Kim Yoo Jung and Song Kang's newlywed life in 'My Demon' has been revealed.
On the 17th, the production team of SBS's new Friday-Saturday drama 'My Demon' (written by Choi A Il, directed by Kim Jang Han) released the fourth teaser video showing the live the sweet and bloody contract marriage of Do Do Hee (played by Kim Yoo Jung) and Guwon (played by Song Kang).
If the previous 3rd teaser video attracted attention with the secret office romance of Do Dom Hee and Guwon, this 4th teaser video stimulates curiosity with the appearance of the two after they have entered the kiss. according to the contract. Guwon, a demon who once said it would be crazy to marry a human, is now walking down Virgin Street with Do Hee with a bright smile.
In the next video, Do Hee's prenuptial agreement, in which she raised her hand and said, "You need my tattoo, and I need your ability," this line also attracted considerable attention. tell. They are two people who signed a contract called 'sham marriage' for different purposes. The phrase 'Human and devil, contract marriage' raises curiosity about the contract and relationship between Do Do Hee and Guwon.
The sight of Do Do Hee and Guwon starting their sweet newlywed life creates excitement. Do Hee fed Guwon a homemade cake, and Guwon's eyes looked at her lovingly, the image was so sweet. However, the newlywed life of humans and demons is full of twists and turns. Along with Guwon's cold face, it foreshadows the dynamic change that is about to come to the devil.
The tight, uncomfortable distance of living in the same house also gives viewers a feeling of excitement. With Guwon's inner thoughts, "I feel relieved that Do Do Hee is always in front of me," further increased the excitement. of the audience Guwon lies on the same bed as her and holds Do Do Hee's wrist, and this strange tension between the two also unintentionally brings a happy smile.
'My Demon' is a fantasy romantic comedy about the contract marriage between evil corporation heiress Do Do Hee and evil Jeong Gu Won, who momentarily lost his powers. Song Kang and Kim Yoo Jung shared the appearance of trustworthy actors such as Lee Sang Yi, Kim Hae Sook, Jo Hye Joo, Kim Tae Hoon, Jo Yeon Hee, Lee Yoon Ji, Kang Seung Ho, Seo Jeong Yeon and Heo Jeong Do and they are confident that they will be responsible for the film's perfection.
Kim Yoo Jung transforms into Do Do Hee, the future heiress of the conglomerate, she can't trust anyone and falls in love with the devil. And Song Kang plays Jeong Guwon, a perfect devil and deadly scary and entangled with Do Do Hee. 'My Demon' will premiere at 10 pm on the 24th, after 'The Escape of the Seven: War for Survival'.