Kwon Oh-joong's son has a rare disease that affects only 15 people worldwide
Obtained my son's social worker license.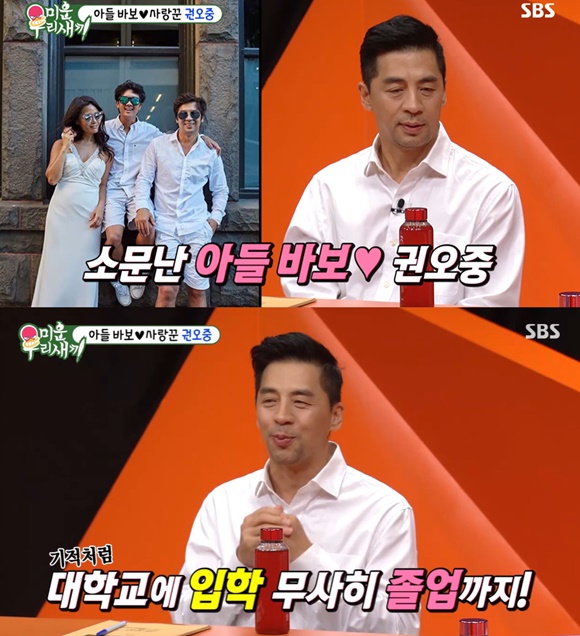 ​[The Fact | [Reporter Gong Mina] Actor Kwon Oh-joong shared the current condition of his retarded son suffering from a rare disease.
Kwon Oh-joong appeared on SBS entertainment program 'My Little Old Boy', broadcast on the 10th, and revealed that his developmentally disabled son had graduated from college.
Kwon Oh-joong, who is famous for having a 'stupid son', caused a surprise when he revealed that he obtained a social worker license for his son with developmental disabilities. He confided: "I started volunteering through my son. When volunteering, I realized that volunteering alone is not enough to help people. I thought that if I studied, I would be able to help more and raise my children properly. , so I received the certificate."
Only a few years ago did Kwon Oh-jung learn the exact diagnosis of her son's illness. He said: "My son, who used to run, jump and talk when he was young, started having bad symptoms so he went to the hospital but no hospital could diagnose him." The hospital re-examined it around 2017 because technology had improved. My entire family was genetically tested. "It took a year for the results to come out," he explained.
"Only one person in Korea and 15 people in the world have my son's disease. There is no cure," he said, adding that he was grateful to have learned the name of his son's disease.
Kwon Oh-jung also shared an anecdote about how embarrassed he was when his son said, "I want to go to college and get a girlfriend." Kwon Oh-jung impressed those around him by saying, "I think it's lucky if my son only goes to high school, so I don't think about going to college. After listening to my son's words My wife and I started looking at it all." school. Luckily, he graduated safely."