Repeated misunderstandings between the 16th generation of 'Single Single Special'… Conflict continues in the three-way confrontation.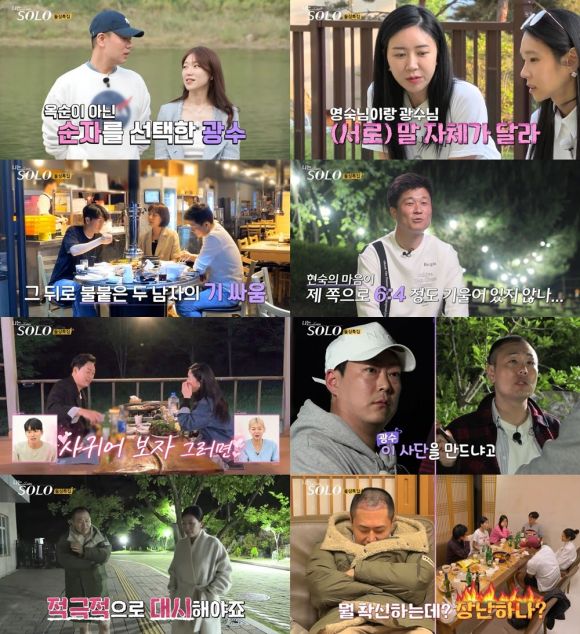 Source: Screenshot of ENA broadcast
[The FactㅣReporter Kim Saet-byeol] The 16th season of 'I am SOLO' has fallen into an irreversible 'swamp of conflict'.
ENA and SBS PLUS entertainment program 'I am SOLO', broadcast on the 13th, revealed the immediate situation of the special episode of the 16th single. Gwang-su discovered the truth behind ' 'romantic fake news' confuses him, and in the process, the 'swamp of conflict' deepens, with the emotional war between Gwang-su and Yeong-cheol exploding.
On this day, 'Solo Country 16' is a dating event decided by the choices of single men. Gwang-soo chose Sun-ja instead of talking to Ok-sun on the date because of her growing misunderstandings. In response, Ok-soon expressed his cold heart: "I appreciate Gwang-soo's courage, but it all collapsed." Sang-cheol said, "I said I would choose Ok-sun, but Young-sook looked like she wanted to eat black bean noodles," and walked around to Young-sook.
Jeong-suk asks to talk to Ok-sun. He alluded to this situation by saying, "Young-sook and Gwang-soo's words are completely different. You have to listen to both of them to understand what happened." Ok-sun, who went to the common living room after finishing her conversation with Jeong-sook, said as if she was deliberately making Gwang-soo listen, "I think I can eat black bean noodles. (Young -soo) I said I would thank you back." In response, Gwangsu asked, "Can we go on a date and talk for a bit?"
Gwang-su and Sun-ja enjoyed a date in 'Andong Jjimdak', and Ok-sun, who was dating Yeong-su, raised his liking index after hearing Yeong-su say, " I don't care what other people say," saying, "I'm not trying to think about anyone, but I wonder if this person is different." .
Youngsook and Sangcheol enjoy 'Tiki Taka Explosion' date. Sang-cheol, who had previously declared that he would not do 'kitchen work', promised Yeong-sook 'morning ramen' and even cooked meat for her. He didn't even hesitate to confess to Youngsook: "Talking is fun. That's because I'm doing it with the person I like."
After that, the two continued to 'argue tiki-taka' despite their cat-like speed and drank coffee. After the date, Sang-cheol said, "I felt like I was being pushed around and lifted up, but it was quite a thrilling and strange feeling," while showing that he was completely engrossed sucked into Young-sook's 'training' process. Youngsook tearfully said, "I was so touched when Sangcheol chose me and said, 'I think I can talk to Youngsook more.'" However, she confessed, "When Sang-cheol was about to return (in America), I thought he would stop expressing his feelings for me if I behaved badly. I repeatedly wondered if it was right to express my feelings to someone I felt like." Will come back anyway."
Gwang-soo meets Ok-sun and confirms their conflicting interpretations of the word 'until now'. He said, "Youngcheol said, 'Oksun's heart is Yeongsoo, that's what I heard'" and recounted what others had told him. Ok-sun pointed out, "I correctly told others that I was Gwang-soo. I think it's a relief that Gwang-soo was influenced by someone else's story and returned to another woman." ." Gwang-soo suddenly called Yeong-cheol over and said, "I didn't say this because I wanted to take it back," and the three-way meeting was finally completed.
Gwang-su asked Young-cheol, "Didn't you say that Ok-sun's heart went to Young-soo? If Young-cheol said so, he must be responsible." Yeongcheol replied, "You have to speak well," and Gwangsu, embarrassed, raised his voice and said, "Shall we record it?" Gwangsu even angrily said, "What basis do you have to create this scandal by telling me something inaccurate?" Youngcheol said, "I should have made a better decision."
Gwang-soo finally announced the end of their romance, telling Ok-sun, "It's unfortunate, but it ended like this. Instead, we resolved the misunderstandings." so let's not hate each other or anything like that."
After the three-way meeting, Youngcheol expressed his feelings of unfairness in conversations with other single men and women. He couldn't help but say excitedly: "Do you want to fight with me? I don't know what will happen outside." Gwang-soo, who faced Sang-cheol in the shared living room, was also angry at Sang-cheol's comments that seemed to side with Yeong-cheol, so he eventually left the room. He then asked to talk to Youngsook and asked again about 'vigilance', Youngsook explained: "This morning, I told Yeongsik to also be vigilant. I meant to call (to Oksun) actively." than".
The story of episode 16 of 'Single Single Special', which is increasingly mired in conflict, can be seen on ENA and SBS PLUS at 10:30 pm on the 20th.