Ask Jang Dong-min for advice on proposing.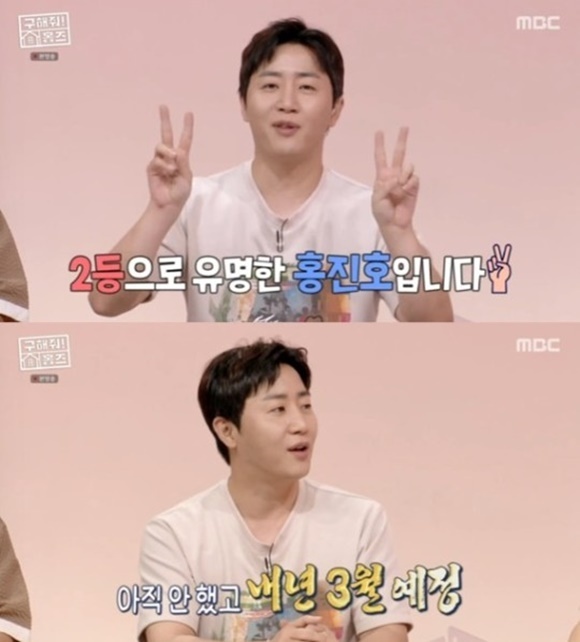 Source: MBC broadcast capture
[The Fact | Reporter Jeong Byeong-geun] Broadcaster Hong Jin-ho, a former professional gamer who is now a poker player, will get married next March.
Hong Jin-ho appeared on MBC entertainment program 'Save Me!' broadcast on the 14th. He appeared as a guest on 'Holmes' and introduced himself as "Hong Jin-ho, the man he is second in popularity" and announced that he plans to get married next March. He then confessed, "I found out the date was February 22," making everyone laugh.
He joked, "I looked but there was no wedding hall. Also, it was a weekday and most people remarried" and "I booked on the weekend because I'm getting married for the first time." fairy".
Hong Jin-ho went to see the property for sale with Jang Dong-min. Hong Jin-ho said he had not yet proposed to his future bride, and Jang Dong-min said in surprise, "You haven't, but have you published an article about the wedding?" Hong Jin-ho asked for advice, saying, "I don't know the concept of surprise. Please tell me."
Hong Jin-ho's proposal was, "We'll go see a late-night movie. If there's no one around and the video I took is on, I'll be there and call you."
In response, Jang Dong-min said, "I didn't decorate it, but I don't like it if you suddenly do it. I have to create an atmosphere." He also revealed that he gave the car as a gift, saying: "Isn't it important what you give?" Jang Dong-min prepared a luxury SUV as a proposal gift. Hong Jin-ho was surprised and asked, "Can I give you something else instead of just a ring?"
Hong Jin-ho has been a professional gamer since 2000, when StarCraft was at the peak of its popularity, and has become incredibly popular. He came in second place so much that even now the number 2 is often mentioned about him. He has been active as a poker player since 2019 and announced on a broadcast that his accumulated winnings are over 2 billion won. He also appeared on various entertainment programs and showed off his wit.