Paul Kim, Solar, Son Dong-woon and Shin Yong-jae are in charge of judging.
Released every Friday on Wave, YouTube, etc.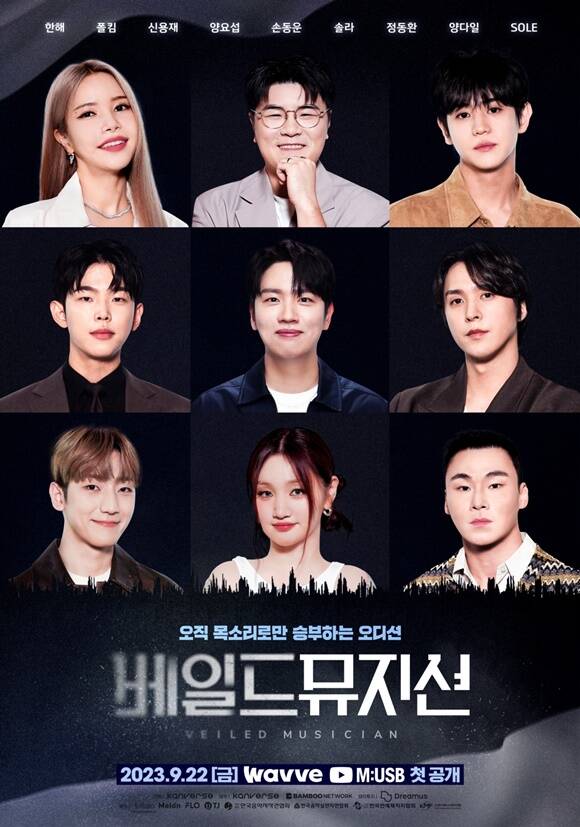 ​[The Fact | Reporter Gong Mina] An audition program is coming up where you can compete using only your voice.
On the 15th, the production team of 'Veiled Musician' announced: "It will be released exclusively on OTT on Wave every Friday from 7pm on the 22nd and can also be viewed on M:USB channel of YouTube."
'Veiled Musician', which is expected to consist of a total of 10 episodes, is an audition program in which everything except the voice, such as face, age, education level, and name, is kept secret. . Focus on the essential charm of music. Current vocal experts, including trainees from major entertainment companies, former idol contestants, and foreign contestants all flocked to the event.
The judging lineup is also majestic. A large number of top singers will participate, including Paul Kim, Mamamoo's Solar, Highlight's Yang Yoseop, Son Dongwoon, Yongjae Shin, Melomance's Jeong Dong-hwan, Yang Da-il and Sol. MC will be rapper Hanhae.
In the teaser video first released on the 15th, the judges were extremely surprised by the continuous appearance of talented people. Solar said in surprise, "I got goosebumps" while Yang Yoseop and Son Dongwoon couldn't close their mouths and said, "I'm so surprised", "This is an emergency. I thought it would go like this for until the final," and "I was ecstatic from the first sentence."
'Veiled Musician' is planned and produced by Kanverse, and sponsored by Kakao Entertainment, Melon, Flo, TJ Media, Korean Music Copyright Association, Korean Music Performers Association, House Association Korean Entertainment Production and Korea Management Association.
The ultimate winner will receive management from Dreamus Company and support including releasing music in collaboration with famous musicians.