I wanted to protect my family but in the end I filed for divorce.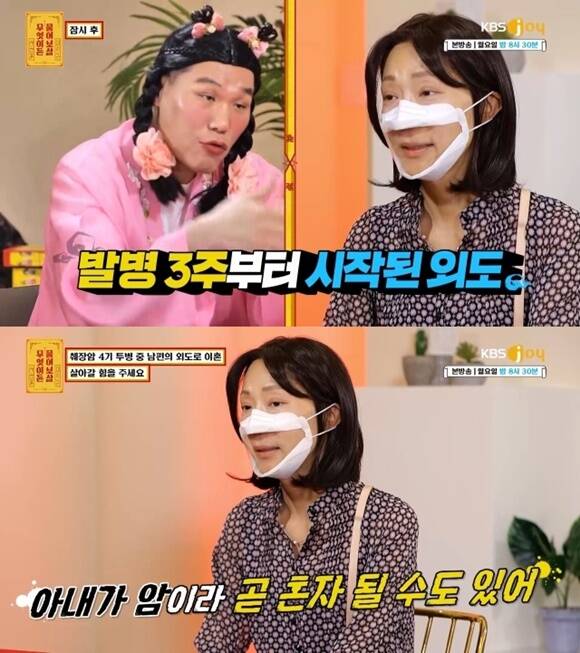 Source: Screenshot of KBS Joy broadcast
[Reporter ㅣ The Fact Moon Hwa-young] The story of a husband cheating on his wife, who was suffering from pancreatic cancer, was revealed, making viewers angry.
In the 233rd episode of KBS Joy's entertainment program 'Ask Anything' broadcast on the 18th, a narrator appeared who was raising her children alone after divorcing her husband due to his infidelity while working. fighting stage 4 pancreatic cancer.
The narrator discovered her husband was having an affair three months after being diagnosed with pancreatic cancer. Evidence collected through black boxes and text messages, it was discovered that the husband began having an affair just 3 weeks after the narrator was diagnosed with cancer. . That's right.
The adulterous woman, who works as a gym manager run by her husband, also knows that the narrator is suffering from cancer. However, instead of stopping the woman from having an affair, the husband was revealed to have said, "My wife has cancer, so I'll probably be lonely soon."
The narrator wanted to protect his marriage for the sake of his young son, but in the end filed for divorce after a lawsuit demanding compensation for damages from the adulterous woman, and the adulterous woman showed her attitude. thoughtlessly, thinking: "Even if the Director comes, I won't do what you want." Then, in front of the narrator who was struggling with his illness without money to hire a lawyer, at the trial, he said: "It might be a lie that he has stage 4 cancer, so let's review".
MC Lee Soo-geun angrily replied, "I was so shocked that I couldn't speak. I'm sorry if my family is sick so I cry every day." Seo Jang-hoon comforted the narrator by saying, "The most important thing right now is your health, so please focus on treating yourself."
'Ask Anything' airs every week at 8:30 p.m. on KBS Joy.