Soo-jong Choi, Dong-jun Kim participate in the acting
Airing the first episode in November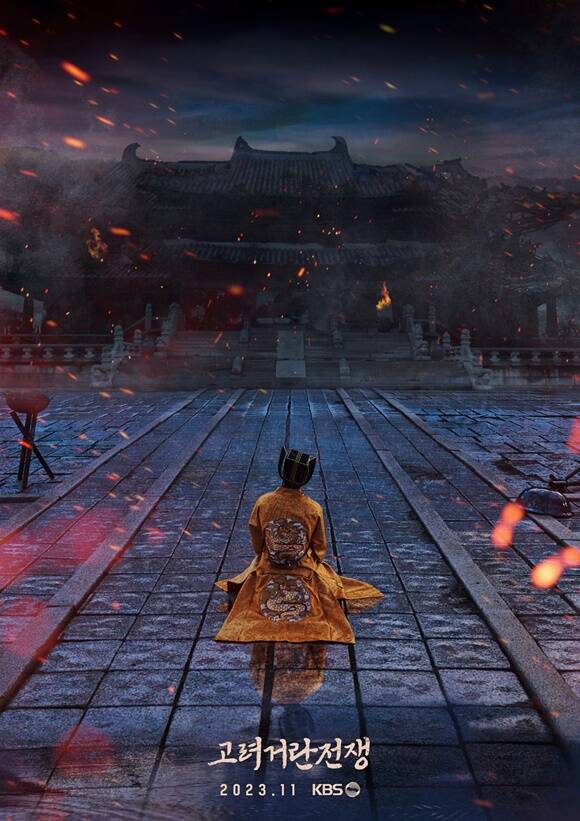 [The Fact | Reporter Gong Mina] 'Goryeo-Khitan War' has raised expectations with a teaser poster showing its overwhelming scale.
On the 19th, the production team of KBS 2TV's new historical drama 'Goryeo-Khitan War' (written by Lee Jeong-woo, directed by Jeon Woo-seong and Kim Han-sol) released a teaser poster conveys the solemn energy and determination of the 8th Emperor of Goryeo Hyeonjong (played by Kim Dong-jun).
'Goryeo-Khitan War' is a work that tells the story of Emperor Hyeonjong of Goryeo, who united Goryeo with tolerant leadership and led the war against Khitan to victory, and Kang Gam-chan (Choi Soo-jong), his political advisor and commander-in-chief of the Goryeo army.
The published teaser poster attracted attention when it contained the image of Hyunjong, the 8th generation emperor of Goryeo, sitting and looking at Gaegyeong Palace, which had become a pile of ashes at dawn.
While the fragments of the unextinguished fire flew, the back figure of Hyunjong facing his own destiny could be felt in his determination to protect Goryeo no matter any threat. The image of Hyunjong wearing Hwangryongpo robes and Gaegyeong Palace covered in thick fog adds to the curiosity about the fate he will walk in the future.
The production team is expected to vividly carry out the process of Goryeo's 8th emperor Hyunjong, who did not succumb to Georan's invasion, overcome the national crisis, and bloomed brilliantly. He shared, "We plan to bring the audience a different joy and touching feeling when looking back at Hyunjong's life from a new perspective that we didn't know about. We hope everyone will spend a lot of time." attention and
The movie 'Goryeo War' will be broadcast for the first time in November.