Phillip Choi visited the amusement park with his two brothers Doyeon and Dowoon
Dowoon, pediatric cancer treatment was completed in January.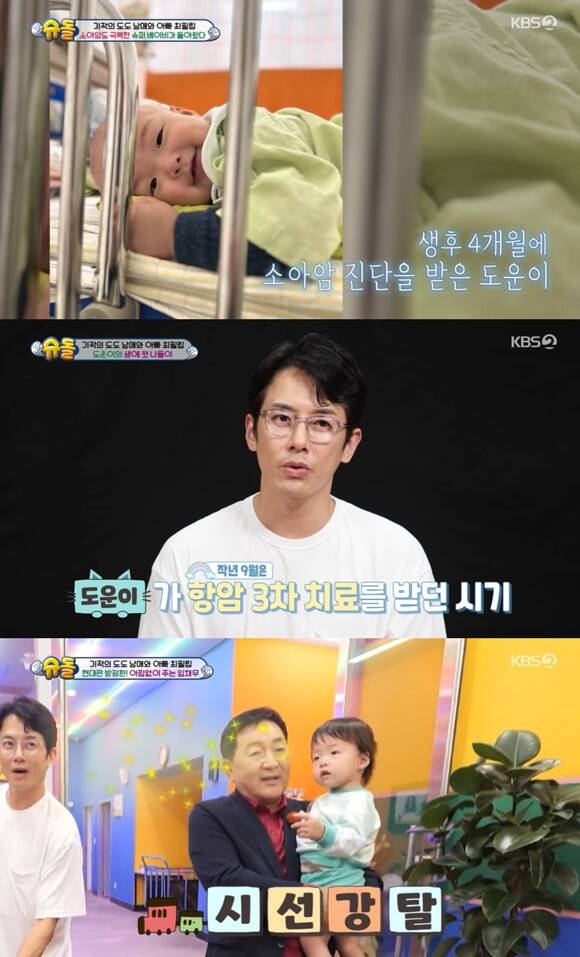 Source: Screenshot of KBS 2TV broadcast
[The Fact| [Reporter Gong Mina] In 'The Return of Superman', actor Philip Choi visited an amusement park with his son Do-woon, who completed treatment for childhood cancer.
In the 496th episode of KBS 2TV's entertainment program 'The Return of Superman', broadcast on the 19th, Phillip Choi visited an amusement park with siblings Do-yeon and Do-un and made celebrate.
My 18-month-old son Dowoon recently completed treatment for childhood cancer. Philip Choi washed Dowoon and said: "A lot of the scars are gone. It's a glorious scar. Dowoon is a strong and wonderful kid who overcame cancer." He expressed admiration for Dowoon, who is showing a healthy appearance after completing treatment.
Next, Do-woon and 4-year-old Do-yeon had a warm relationship like brother and sister. Do-yeon shows her love for her younger sister Do-un by playing peek-a-boo and feeding her yogurt.
Phillip Choi said, "The Do-do siblings (Do-yeon, Do-woon) don't spend much time together. I was very touched to see Do-yeon open up to Dowoon." I was happy to see the two brothers, who had been separated due to Dowoon's hospitalization since childhood, gradually become closer and rely on each other.
Phillip Choi later said, "Dowun can't even go to a children's cafe" and revealed the situation where he couldn't go out easily due to the risk of infection. However, following the expert's opinion that she can now raise her child comfortably, she decides to go out and fulfill her daughter Do-yeon's long-standing wish to go to an amusement park. brainstorming with Do-woon.
Actor Lim Chae-moo invited the Dodo siblings to the amusement park he runs. Dowoon looked surprised when he got to ride a merry-go-round for the first time in his life. Dowoon then entered the room and saw the colorful amusement park he had seen for the first time, sending his instincts into overdrive. Dowoon had a bright smile as he ran around the amusement park, everything from sleds to trampolines, with a curious look on his face.
Philip Choi looked at the Dodo siblings happily and said, "I never thought there would be a day like this", and expressed his excitement at seeing the two Dodo siblings who had not seen each other for a long time play together.