Gwang-soo is shocked by 'fake news', what is his romantic love story?.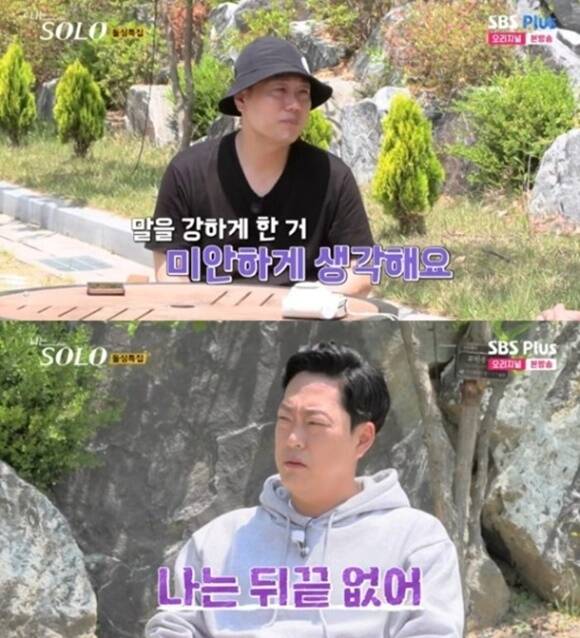 Source: Recording 'I'm Solo'
[The Fact | [Reporter Jeong Byeong-geun] 'I'm Solo' Episode 16 Gwang-soo reconciled with Yeong-cheol, who confused him with untrue words.
ENA/SBS Plus's entertainment program 'I am SOLO' broadcast on the afternoon of the 20th featured 'Solo Country 16', causing a stir with the choice of date by single women after randomly selecting photos . Yeong-cheol and Gwang-soo, who had been in conflict over 'fake news', reconciled and after that, Gwang-soo turned to Ok-sun, with whom he had been in conflict.
Previously, Young-sook, Young-cheol, and Young-ja told Gwang-su confident stories that Ok-soon seemed to care about others based on their own thoughts, and Gwang-su became suspicious of Ok-soon, the person they talked to. feeling. Gwang-su, who belatedly realized his stupidity, asked Yeong-cheol the whole story, but Yeong-cheol couldn't remember, leading to a conflict between the two.
The morning after this incident, Gwangsu was doing the dishes early and ran into Yeongcheol. When Youngcheol happily greeted them and said, "Did you have a good night?" Gwangsu offered to start a conversation and said, "Let's talk for a bit," and apologized for the argument the other day. In response, Youngcheol shook his hand and coolly shook off his resentment and said, "I have no regrets."
After a random photo appointment, Youngho asked Gwangsu about his current situation. When Gwang-soo said, "Promise me that you won't tell anyone," Young-ho said, "I won't leave even 1% of the blame" and left immediately. However, Gwang-su expressed his affection for Ok-soon: "Now that everything is fine, I can see the good in her. Let's think and act selfishly." . This is where things can be done."
Then, in the date selection, Ok-sun chose Yeong-soo, and Gwang-soo did not receive a single vote.