Jongsu arrived late and Yeongcheol made a double promise: "Isn't that polite...tense?".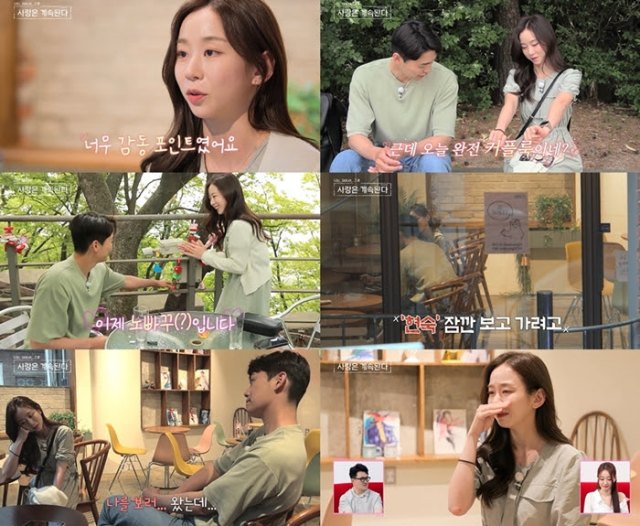 Source: ENA broadcast
[The FactㅣReporter Kim Saet-byeol] In the third season of 'The Four Seasons of Nasol', Jeong-sook was so angry with Jong-su and Yeong-cheol that she even shed tears.
Jeong-sook enjoyed a date with Jong-su from 2nd grade and Young-cheol from 11th grade on SBS Plus/ENA's 'I Am SOLO, Later Love Continues' (hereinafter referred to as 'Nasol Four Seasons '), aired on the 21st. The process had many twists and turns and Jeongsuk was hurt by the two people.
First, it was Jongsu's first date with Jeongsuk after breaking up with her at 'Solo B&B'. However, Jongsu did not contact me until after the scheduled time. Jeongsook's expression suddenly hardened when she remembered that Jongsu was late for the first day of filming the second part 'I am SOLO' and 'Nasol Four Seasons'.
Youngcheol was not late for his appointment. In particular, he appeared worried about the quiet and even double-checked his arrival time just before arriving. Jeongsuk was very happy about this and said it was "a touching point."
However, after going on a date with Jeongsuk, Youngcheol said he had a date with a friend. Jeongsuk expressed his regret, "Yesterday Jongsu was like that. Why don't you guys make plans for later? I'm stressed. I'm so sad. I heard that everyone feels the same way."
It turns out Yeong-cheol decided to meet Hyeon-suk. Youngcheol, who told Jeongsuk the truth, said, "I was worried about whether I should say it or not. I think it's better to say it than to hide."
Jeongsuk's expression stiffened. When Youngcheol said, "I hope you don't feel uncomfortable," Jeongsuk expressed, "I don't think Hyunsuk knows that you went on a date with me. I didn't feel happy when she came to me and asked me out on a date." to see me again."
Jeongsuk said, "It's already been decided. I didn't even contact you." Yeong-cheol said, "I kept getting calls from Hyeon-suk," and Jeong-sook regretted it.
Afterwards, Jeong-suk shed tears and told the production team: "Honestly, that was a bit rude, wasn't it? I felt sorry for 13th member Hyun-sook and I also felt sorry for self".
Next, he confessed, "I'm a shy person. Even if I like it, I've never contacted anyone first. I blame myself for not being able to do that. I'm very sad."
However, on the way back, Jeongsuk expressed his disappointment to Yeongcheol: "Hyunsuk, stop using the shield. Honestly, don't you feel uncomfortable?"