"Proving world class"... All Kill in 3 countries and became a hot topic worldwide.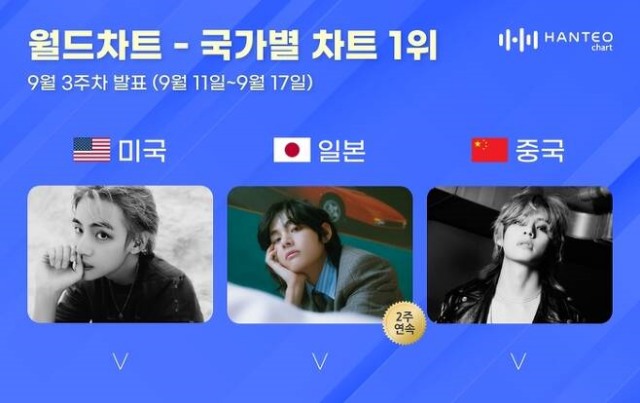 Source: Hanteo Chart
[The Fact - Reporter Kim Seat Byeo] V (BTS) has been actively active on charts around the world and has proven himself as a 'World-Class' artist.
On the morning of August 22, Hanteo chart - live music chart - announced the Top 30 rankings for each country in the US, Japan and China in the third week of September. Accordingly, V climbed to No. in each category.
Each country's ranking is a comprehensive ranking based on global data of Kpop artists such as albums, digital music and social portal data around the world based on large data collection technology of Kpop artists. Hanteo Chart. National rankings are published every Friday.
The statistical time for each country's rankings this week is from April 11 to 17. With 'Layover', V earned the number 1 spot in both the US, Japan and China this week.
First, V scored 5877.94 points in the US composite index. NCT's song 'Golden Age' ranked 2nd with 4431.29 points, while New Jeans' 'Get Up' ranked 3rd with 4011.62 points.
In Japan, the composite index reached 6333.03 points. In particular, V won 1st place in the Japan category for the 2nd week and continuously ranked at the top for 2 consecutive weeks.
In the China category, V's 'Love Me Again' climbed to No. 1. In addition, it is worth noting that 'Get A Guitar' by 'RIZZE' climbed to No. 3 with the composite index. China's is 6363.64 points.
While V's attention is focused on No.1 in the US, Japan and China categories, fans are paying attention to see if V can continue to set records next week or not.