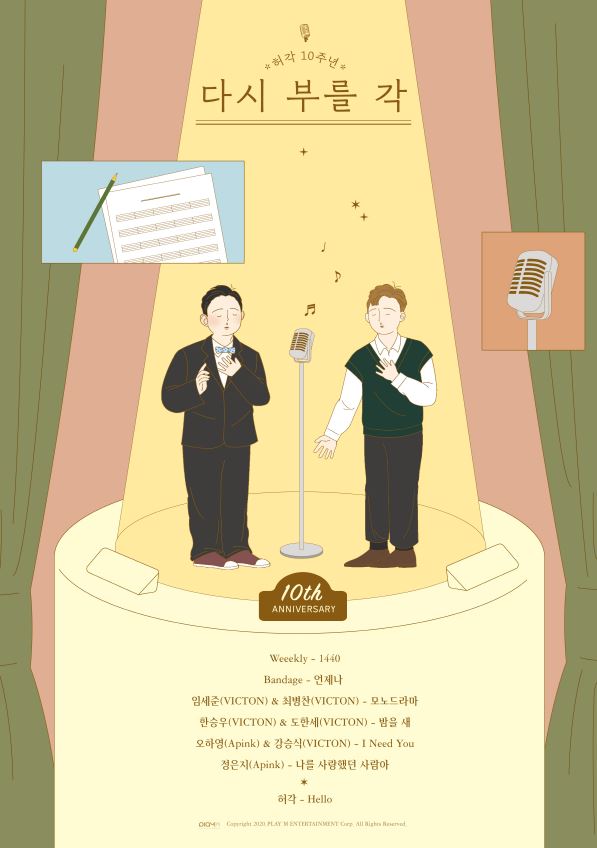 PlayM Entertainment, released a teaser image of the 10th anniversary video content "ON THE MIC" on Huh Gak's official SNS (PlayM Official YouTube Channel) at 6 pm on November 16th.
The illustrations depicting the past and the present on the stage in the teaser image that has been released makes viewers feel crushed, while the list of hit songs of Heogak, which will be reborn with the voices of junior singers, is released together, raising expectations.
Starting with Weeekley's "1440," the content will be released as a cover relay, starting with Bandage's "Always," VICTON Lim Se-joon and Choi Byung-chan's "Monodrama," VICTON Han Seung-woo and Do Han-se's "All Night," Apink's Oh Ha-young and Kang Seung-sik's duet song "I Need You," Apink Jung Eun-ji's "The Man Who Loved Me," and finally 'Hello', where Heo Gak received great love as the title track of his first mini album in 2011.