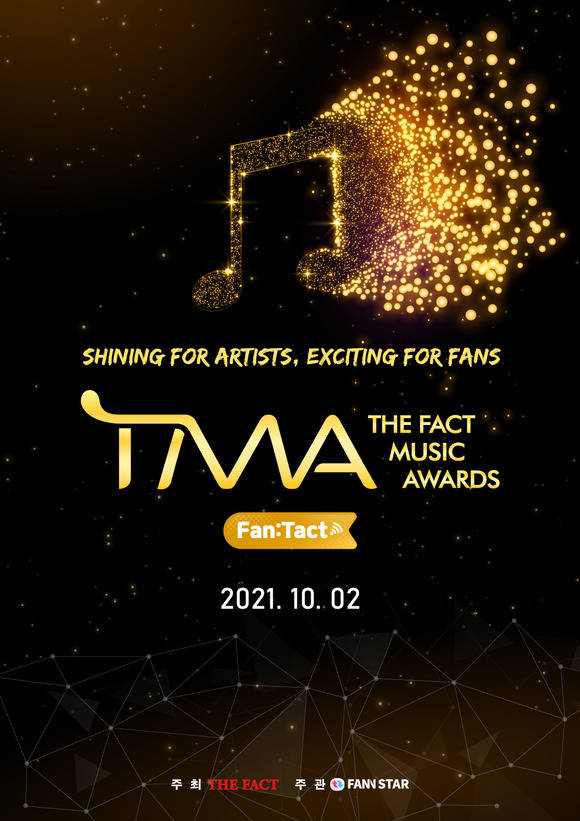 The online first round of voting for the 2021 The Fact Music Awards, a K-POP festival created by fans and artists, will begin.
"The FACT MUSIC AWARDS (TMA)" organizing committee said on August 9th that the first online voting of the fan and star category of the 2021 The Fact Music Awards will be held through official fan and star applications and web pages for two weeks from noon today to noon on August 23rd."
The first round of online voting will take place in four categories: the Fan & Star Choice Award, the Individual Award, the Trot Popularity Award, and the Best As-Dot Award, which will be decided by only the first round of voting.
Fan & Star's "Best As-Dot Award" candidates include Lim Young-Woong, last year's winner, BTS, Super Junior, Young-Tak, Kim Ho-Joong, Jang Min-ho, Jeong Dong-won, SS501, SHINee, TVXQ, Hwang Chi-Yeol, Henry, Highlight, Kim Joong-Yeon, and B1A4.
Candidates for "Fan & Star Choice – Singer", "Fan & Star Choice – Individual" and "Trot Popularity Award" can be selected and added by fans themselves.
Lim Young-Woong, BTS, and Super Junior (clockwise from left) were nominated for the Best As-Dot Award. The top As-Dot award is decided by a first-round vote only. /Provided by New Era Project, Big Hit Music, and SM.
The vote will be held simultaneously on five official applications and websites, including Fan & Star, Japanese, English, Chinese, and Vietnamese, and you can vote for artists you want with "General Star," "Rainbow Star" and "Video Vote." The top 20 teams with the highest score in the first round of voting will advance to the main round (second round), which is scheduled to take place in September.
In addition, the artist who won the first round of votes for the Fan & Star Choice Award and the Trot Popularity Award can get the privilege of being exposed to digital ads at the Lotte Department Store in Jamsil for a week. Second and third places will also be given one-week exposure to waiting rooms at 42 subway stations and one-week exposure to advertisements at Hapjeong Station on subway lines 2 and 6, respectively.
The 2021 The Fact Music Awards will be held on October 2nd at Ontact to prevent the spread of coronavirus 19 and to ensure the safety of all cast, staff, and fans. Detailed information on the awards ceremony will be released on the newly opened '2021 The Fact Music Awards' official website.