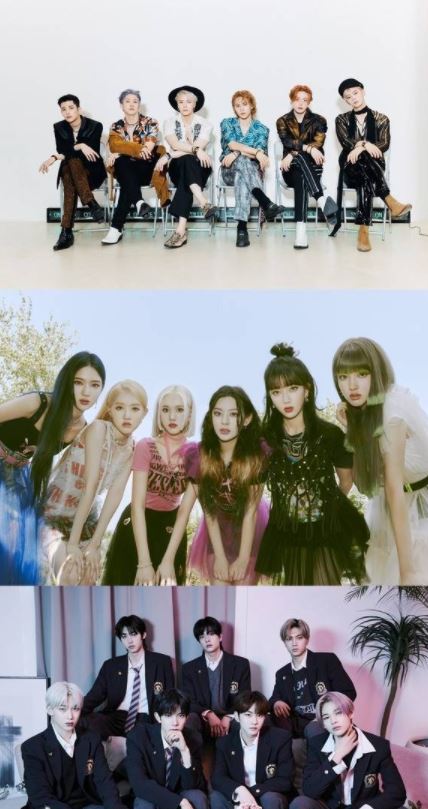 ENHYPEN's is invited for two (2) consecutive times while ASTRO and STAYC's first-time invitation for TMA.
K-pop's representative visual idols will be on stage at the 2021 The Fact Music Awards.
The organizing committee of "THE FACT MUSIC AWARDS (TMA)" announced on September 2nd that "ASTRO, ENHYPEN, and STAYC will attend the 2021 The Fact Music Awards, which will be held in Ontact on October 2nd."
Astro, who combines superior visuals and refreshing charms with all six members, was invited to the "The Fact Music Awards" for the first time since their debut. In April and August of this year, Astro released their second full-length album "All Yours" and their eighth mini-album "SWITCH ON" respectively, and continued to be active.
Astro, who enjoyed topping the Japanese Oricon weekly album chart with its second regular album, has had its best year by winning four music shows, three Gaon charts, and one Oricon album ranking in a row.
ENHYPEN, who joined the "2020 The Fact Music Awards" was lineup 12 days after their official debut, will attend the "The Fact Music Awards" for the second time in a row. ENHYPEN, who rose to the "Fourth Generation Hot Icon" upon its debut, achieved 520,000 album sales in five days with its second mini-album "BORDER: CARNIVAL" released in April.
ENHYPEN, who became a half million seller six months after their debut, is drawing attention from K-POP fans as they are set to make a comeback with their new album later this month.
Like the modifier "All Center-All Vocal," STAYC, who is noted for their unique visuals and solid skills, will also make their first appearance at the "The Fact Music Awards." Stayc has grown into a "fourth-generation representative girl group" by hitting his debut song "SO BAD" and their second single title song "ASAP" in a row, even though it is only ten (10) months after the group debut.
In particular, it's showing a hot trend, such as being selected as a rookie female idol in the "2021 Brand Customer Loyalty Grand Prize." On the 6th, the company will release its first mini-album "STEREOTYPE" and continue its steep rise.
Starting with BTS, expectations are increasing for the 2021 The Fact Music Awards, which is building a lineup of super-luxury artists including Super Junior, Hwang Chi-yeol, SEVENTEEN, OH MY GIRL, ITZY, THE BOYZ, Stray Kids, and ATEEZ, as well as Astro, ENHYPEN, and STAYC.
The 2021 The Fact Music Awards will be held on October 2nd to prevent the spread of coronavirus and to ensure the safety of all cast, staff, and fans. Detailed information on the awards ceremony will be released later on the newly opened "2021 The Fact Music Awards" official website.