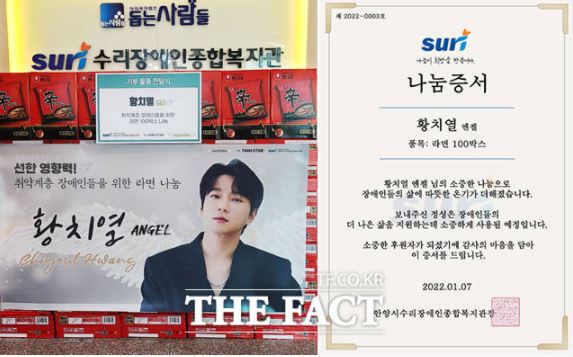 [The Fact Reporter Son Hae-ri] Singer Hwang Chi-yeul Angel shared ramen with the disabled who were suffering from COVID-19.
Singer Hwang Chi-yeul Angels goods delivery ceremony was held on January 7th at Anyang Suri General Welfare Center for the Disabled. The Hwang Chi-yeul angels, made up of Hwang Chi-yeul fans, united in the project to distribute 100 boxes of ramen to the disabled through 'Fan N Star-Angel N Star.' In particular, Hwang Chi-yeul, as a global singer, participated not only in Korea but also in overseas fans, thereby proving his extraordinary popularity.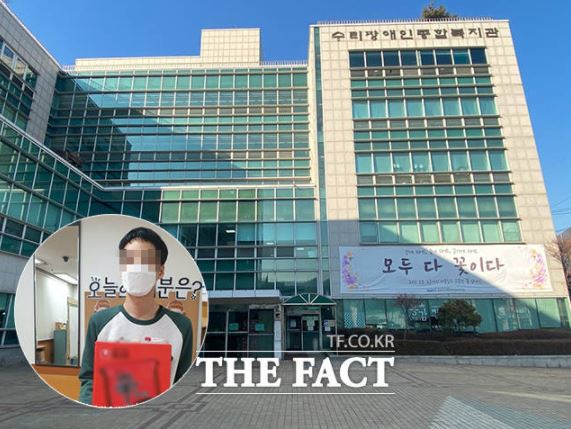 Due to Hwang Chi-yeul's "good influence," Hwang Chi-yeul's photo was greatly exposed to the event of delivering goods at the Irrigation Welfare Center for the Disabled in Anyang, creating a warm appearance. Lee Hyung-jin, director of the Anyang-si General Welfare Center for the Disabled, said, "All of them were happy and received the goods. I hope that "good influence" will spread a lot in the future, he said.
In addition, Angel Azdot, which is aimed at promoting the sharing of Hwang Chi-yeul Angel, will be exposed through the electronic display of Line 2, N Square of Hongdae Station, and Gangnam-gu Office Station of CM Board Line 7 in the third week of January. Detailed schedules can be found through the Fan & Star announcement.
Meanwhile, Fan & Star's Angel & Star is conducting a "diaper sharing project" from January 3rd to 28th to provide childcare for children who are not protected and raised by their parents.