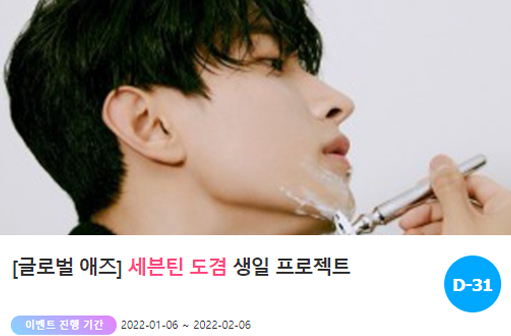 Fan & Star, a site that delivers idol ranking information, is holding a special event for Dokyeom on January 6th. It is a large advertising project to celebrate his birthday on February 18th.
The success of Dokyeom birthday project will be determined by the number of rainbow-specific (points that can be collected on the site) donated by fans. The more stars there are, the more congratulatory advertisements are posted in various places.
When 20,000 stars gather, a congratulatory video will be screened on the CM board (square pillar) at Hapjeong Station in Seoul Subway. When the number of stars reaches 55,000, a congratulatory video will also be released on the Shinokubo electronic display in Shinjuku, Tokyo, Japan. In addition, abundant gifts such as Jamsil's large digital electronic display, Hongdae's M-screen, and Seoul bus advertisements are waiting for fans.