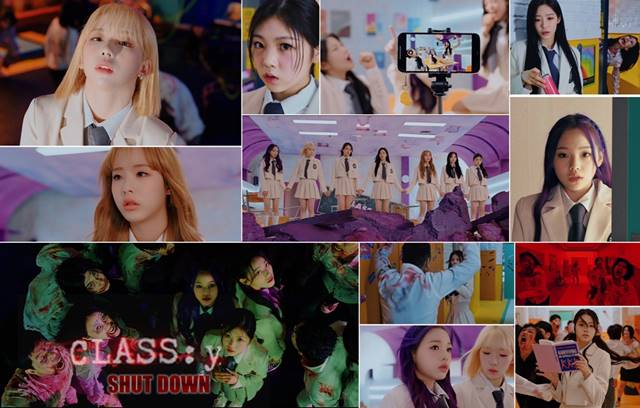 M25, the management company of CLASS:y (Myung Hyung-seo, Yoon Chae-won, Hong Hye-joo, Kim Li-won, Won Ji-min, Park Bo-eun, and Kim Seonn-yoo), released a teaser video for the first mini-album Y 'CLASS IS OVER' on its official SNS channel at midnight on April 28th.
The 23-second teaser video made me imagine a science fiction movie. The overwhelming scale reminiscent of a blockbuster movie, colorful CG effects, and colorful transition effects were combined to deliver a variety of attractions to K-pop fans.
In the teaser video, CLASS:y is struggling to get out of the collapsed classroom. Each member is looking at the camera with an expression of running away or defeating all zombies, adding to the curiosity about the story of the new song and the music video.
CLASS:y's appearance, which is 180 degrees different from the atmosphere of fear, also amplified expectations for "SHUT DOWN." In the beginning and second half of the teaser, the members walked down the hall in a lively manner, or sang and danced, reminiscent of a scene from a youth drama. Objects that can be easily seen in schools, such as headsets, books, and cell phones, were also actively used.
[Photo provided by M25]