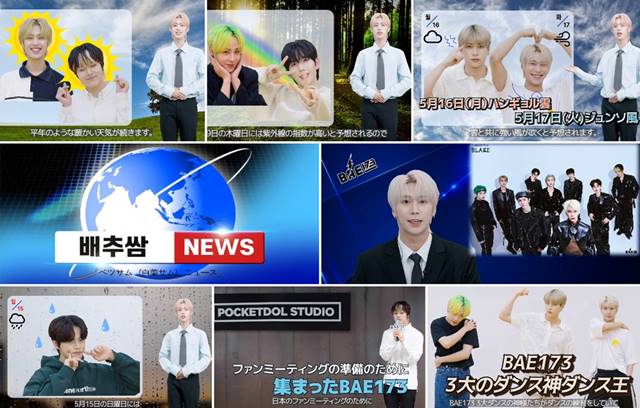 BAE173 (J-min, Hangyul, Yoojun, Muzin, Junseo, Yeongseo, Doha, Bit, and Dohyon) released a video titled "2022 BAE173 FAN MEETING IN JAPAN 'HAJIMETE' PREVIEW CONTENTS Baechoossam NEWS" on its official YouTube channel on May 17th.
BAE173 will hold its first overseas fan meeting at Nissho Hall in Tokyo on the 20th and 21st. It is the first meeting with overseas fans in about 500 days since their debut in November 2020. According to the agency, "Baechoossam News" was prepared by BAE173 for its first overseas fan meeting.
"Baechoossam News" includes anchor Junseo of BAE173 and Do-hyon, the youngest of BAE173, as field reporters, delivering various news from the members and the practice process of the fan meeting in Japan like news. Recently, the introduction of the active song "JAWS," the university life of member J-min, and the preparation for the fan meeting were unfolded.
In particular, Do-hyun's "surprise coverage of the dance practice room" made fans laugh. While watching Hangyul, Muzin, and Junseo's dance practice, Dohyon exclaimed, "If sexiness were born as a person, would it be like this?" and "Your power is transmitted throughout my body," drawing laughter.
[Photo provided by PocketDol Studio]