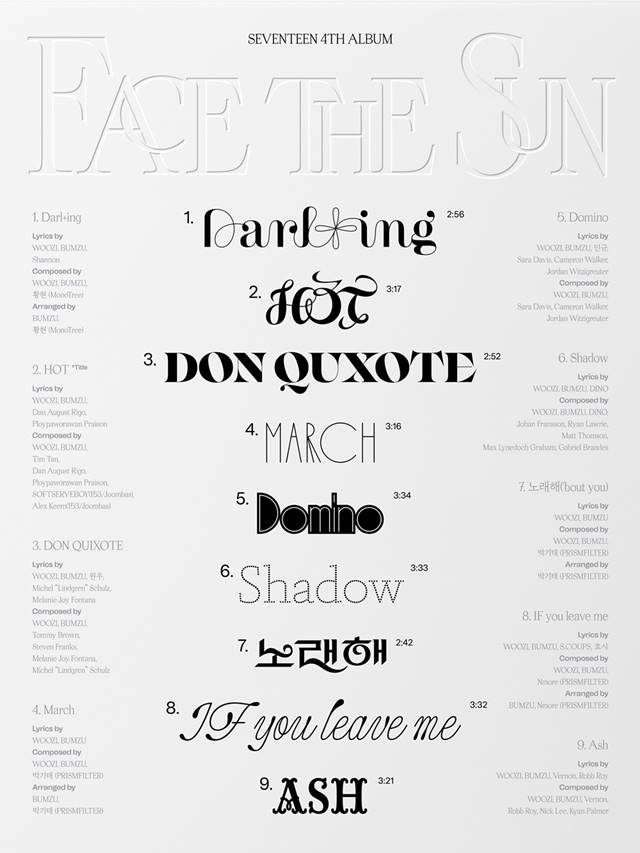 The tracklist of the group SEVENTEEN (S.Coups, Jeonghan, Joshua, Jun, Hoshi, Wonwoo, Woozi, The8, Mingyu, Dokyeom, Seungkwan, Vernon, Dino)'s fourth full-length album "Face the Sun" has been released.
SEVENTEEN posted a tracklist of its fourth full-length album, "Face the Sun," which will be released at 1 pm on its official SNS today (May 18th). According to the tracklist, "Face the Sun" includes the title songs "HOT," "DON QUIXOTE," "March," "Domino," "Shadow," "Bout you," "If You Leave Me," and "Ash.
The message of SEVENTEEN songs is who chose to embark on a new journey by burning all their distrust towards themselves and starting a new journey by being reborn as a stronger being, instead of stopping because of fear through the new album. It's expected to have been completely incorporated into the 9 songs.
The title song, "HOT," is a song that highlights the harmony of Western guitar sounds in the hip-hop genre, showing Seventeen's unique heavy and passionate identity and ultimately revealing its strong will to become the "sun." It is a song that depicts SEVENTEEN bravely moving forward-facing the hot sun.
Photo = Pledis Entertainment