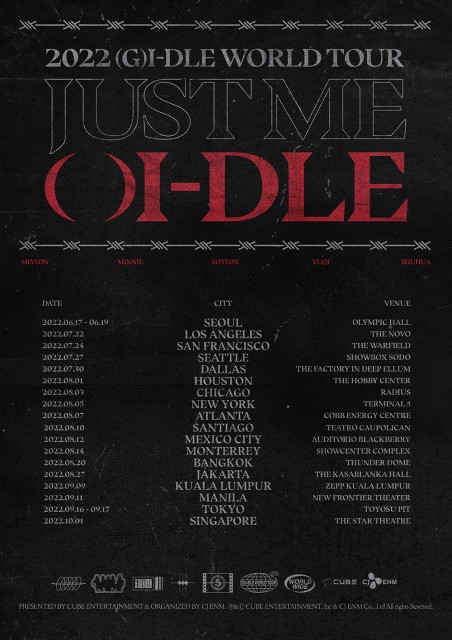 (G)I-DLE (Miyeon, Minnie, Soyeon, Yuqi, and Shuhua) unveiled the schedule of additional world tour performances.
At midnight on the 29th, (G)I-DLE released a poster containing an additional performance schedule for "2022 (G)I-DLE WORLD TOUR [JUST ME ()I-DLE].
According to the released poster, additional performances will be held in Bangkok on August 20th and Kuala Lumpur on September 9th.
Earlier, the world tour performance held in Seoul from June 17th to the 19th recorded a sell-out of all seats as soon as the tickets were opened, and additional tickets also sold -out of all seats realizing their hot popularity.
(G)I-DLE World Tour "2022 (G)I-DLE WORLD TOUR [JUST ME ()I-DLE]" will meet a total of 18 global fans from Seoul to LA, San Francisco, Seattle, Dallas, Houston, Chicago, New York, Atlanta, Santiago, Mexico City, Monterrey, Bangkok, Jakarta, Kuala Lumpur, Manila, Tokyo, and Singapore.