Lee Jung-jae, Jeong Ho-yeon, Park Hae-soo, Oh Young-soo were nominated for Best Supporting Actor.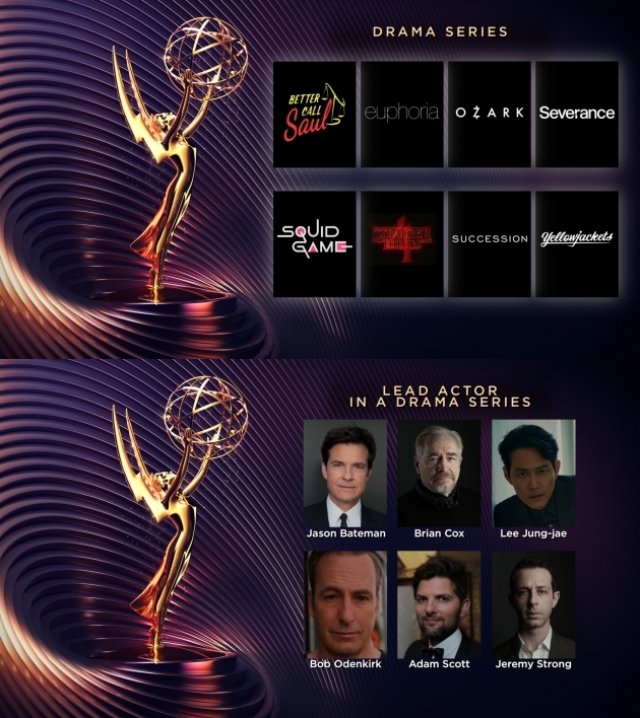 Source: Emmy's official Twitter
[The Fact ㅣ Reporter Kim Saet-byul ] Netflix drama 'Squid Game' has been nominated for 14 nominations at the Emmy Awards, the most prestigious awards ceremony in the US broadcasting industry. This is the first work that does not use English.
The 74th Primetime Emmy Awards (referred to as Emmy Awards) announced the works and actors nominated for the awards ceremony through an online online broadcast on the 13th (KST). The Emmy Awards are administered by the American Academy of Television Arts, also known as the Television Academy Awards. Awarded for all programs aired on TV in the United States during the year.
The Netflix TV series 'Squid Game', which became world-famous last year, was the first non-English-language TV series to be nominated for an Emmy Award for Best Film in the Drama category. The work depicts the story of participants in a mysterious survival game with a prize of 45.6 billion won, risking their lives to become the ultimate winner, and challenging the harsh game. Within four weeks of its release, more than 140 million households watched it, and it has ranked first in the world's top Netflix TV shows for a long time.
Accordingly, 'Squid Game' competes with 'Euphoria', 'Better Call Saul', 'Succession', 'Ozark', 'Severance' and 'Yellow Jacket' at the Emmy Awards.
Not only that, the actors were also named in each category. Lee Jung-Jae, who plays Ki-hoon in the series, is the first Korean actor to be nominated for an Emmy Award for Best Actor in a Drama Series. Actors Park Hae-soo and Oh Young-soo were both nominated for Best Supporting Actor in a Drama at the same time. Jung Ho-Yeon was also nominated for Best Supporting Actress in a Drama.
Director Hwang Dong-hyuk, director of 'Squid Game', was nominated for Best Director and best original story. Director Hwang said via Netflix, "I'm delighted and honored that 'Squid Game' has been nominated for an Emmy for the first time for a non-English-language film. I hope that the door of opportunity to enjoy and understand each other's content will be more extensive."
In addition, 'Squid Game' has received a total of Best Cinematography awards in the Single Camera Series category, Main Theme Music Award, Production Design award in the Contemporary Narrative Program category, awards single-camera editing award in the TV series category, special effects award in the Single Episode category, and the Stunt Acting Award in the production related category. Nominated in 14 categories.
Before that, "Squid Game" swept major US awards such as the Golden Globe Awards, Critics' Choice Movie Awards, Gosom Award, People's Choice, Actors Guild of America (SAG) Awards, and Spirit Award. Accordingly, attention is focusing on whether 'Squid Game' can enjoy the glory of winning an Emmy.