NCT Dream won 4 trophies. New Jeans received the Next Leader award.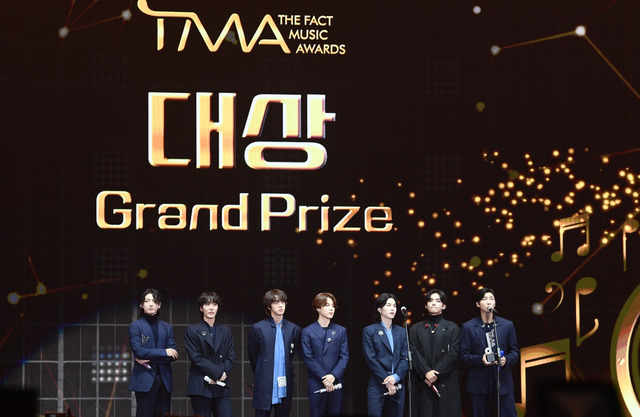 [The Fact ㅣ KSPO DOME = Reporter Lee Hanlim ] The Fact Music Awards 2022, the festival of stars on an autumn night, has ended gloriously with the group's grand prize BTS for the fifth year in a row. and a new era of 7 crowns. Im Young-woong, the current best male solo singer, showed his worth with 5 crowns, and NCT Dream, who rose to the world stage, added meaning to his first appearance with 4 crowns.
'2022 The Fact Music Awards' (TMA) was held at Olympic Gymnastics Stadium (KSPO DOME) in Songpa-gu, Seoul, on the afternoon of the 8th. Overcoming regret over the consequences of last year's COVID-19 pandemic, 10,000 spectators who filled the KSPO DOME gathered to welcome the idols' party.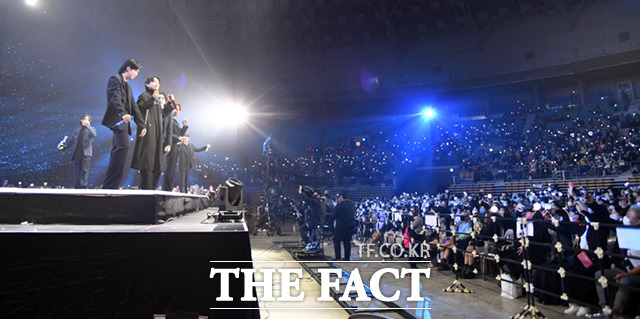 Source: KSPO DOME = Reporter Lee Sae-rom
The artists responded to the fans' longing. Not only expressing their feelings when giving infinite love to fans, the honor trophy goes to the artist who has been most active this year, and the stars who have been active this year have also sent their greetings. Cheers to the audience.
In the award category, of course, BTS is the main character. BTS - the group that has won the Daesang at TMA for 5 consecutive years - set a new record with 5 awards last year. This year, the group broke its record when winning 7 awards, including BTS Jin's award. That day, BTS swept awards, including the Daesang Award, Global Fan N Star Award, Fan N Star Choice singer category, Favorite U+Idol Plus award, and the singer award with the highest number of votes. Fan N Star and Artist of the Year award. Jin (BTS) added an individual award for Fan N Star Choice.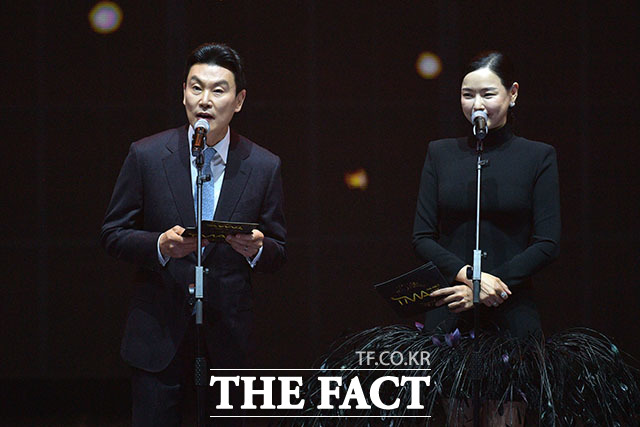 Source: KSPO DOME = Reporter Yunho Nam
Leader RM (BTS) shared, "It's been a long time since BTS appeared in this position. There are many artists here, but, happily, this year we have had better and more diverse activities. However, I also want to thank the fans for giving us a lot of love. I want to say a lot of nice things in the style that we used to do, but now I can't. I think I will show you our true selves soon. We will show you all that we do in Busan. RM also shared his feelings on receiving the final Daesang award: " I'm trying to practice every day, so please wait for me."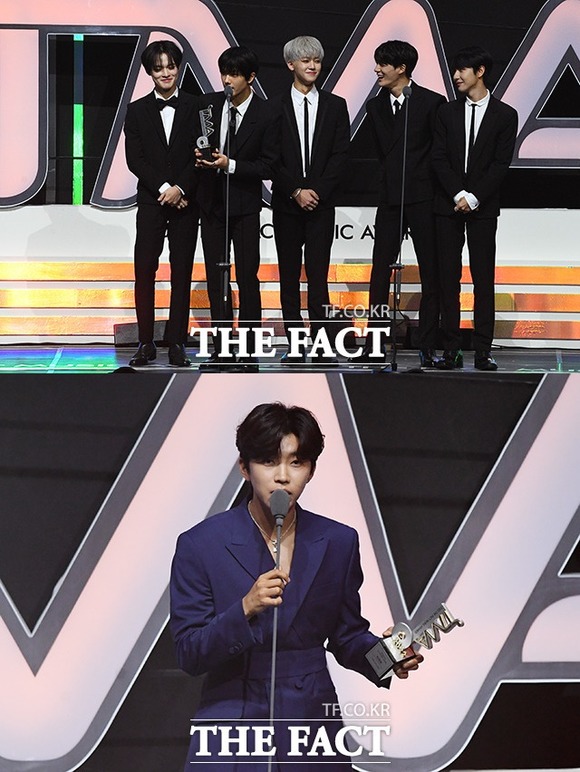 Source: KSPO DOME = Mobility, Reporter Bae Hahn
The best performer on the world stage is NCT DREAM, who first appeared in TMA. NCT Dream, which received a lot of love from fans when it won 4 awards, including Best Performer, Rissus Choice, and Artist of the Year on that day, was without member Mark Haechan on that day but the group drew an explosive response with its uniquely powerful performance and on-stage manners.
Im Young Woong, who has won 5 awards, continued to be active at this year's '2022 TMA'. Im Young Woong - who received 5 trophies, including the Trot award with the most votes for the Fan N Star, the most favorite award in the Trot category, the Fan N Star Choice award, the Fan N Star Angel Star award, and artist of the year - returned the fans' love when performing the title song of the album vol.1.
BTS, NCT Dream, Stray Kids, Im Young Woong, The Boyz, (G)I-DLE, Kang Daniel, ATEEZ, Ive, Psy, ITZY, TXT, and Treasure won this year's Most Active Artist award. Among them, ATEEZ and Psy won Best Performer and Hot Stage of Diar respectively.
The dynamic activity of solo singers also shines. Following, Hwang Chi Yeul also received the individual award with the highest number of votes Fan N Star. This is the first time two singers, Kim Ho Joong and Young Tak have come to TMA when receiving the Fan N Star Angel award.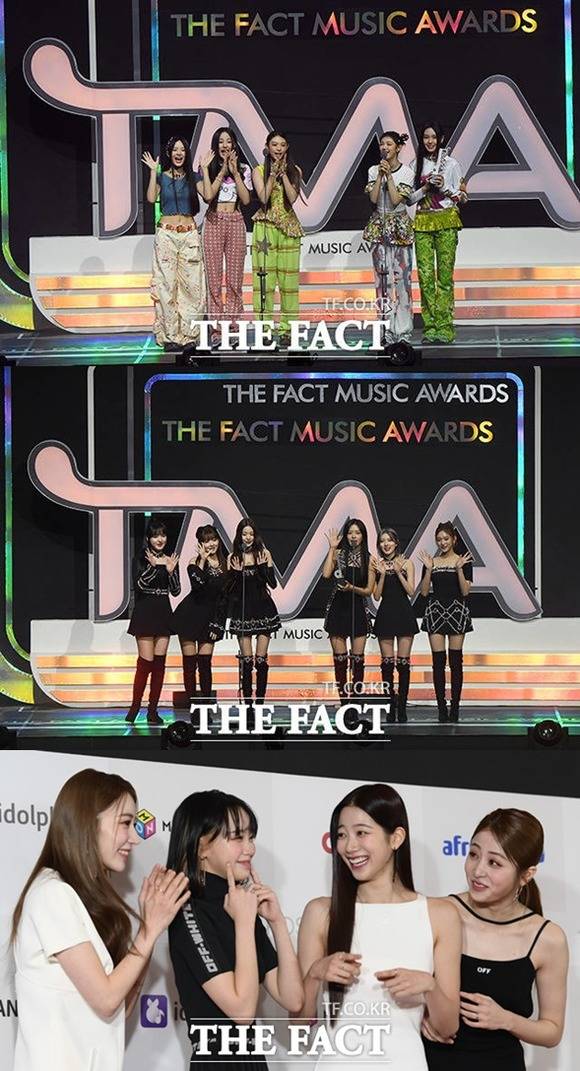 Source: KSPO DOME = Reporters Lim Young-moo, Nam Yun-ho, Lee Sae-rom
The rookie group's brilliant activities are also the bright spot of '2022 TMA.' In the Hottest category given to the hottest rookie this year, T.N.X and Kepler are still active. However, New Jeans, LeSeraphim, and I.B drew attention when co-recipients of the Next Leader Award, which is expected more in the future.
Today's awards ceremony features BTS, ITZY, The Boyz, Tomorrow X Together, Ive, Stray Kids, (G) I-DLE, Kepler, Le Seraphim, Hwang Chi-yeol, Kang Daniel, Kim Ho-jung, Young-tak, ATEEZ, Treasure, TNX, New Jeans, Psy, Young-woong Lim, and NCT Dream attended.
'2022 The Fact Music Awards' is held under the slogan 'SHINING FOR ARTIST, EXCITING FOR FANS,' an award ceremony and music festival conducted by K-pop artists and global fans. The best teams representing K-pop decorated a special and splendid stage that can only be seen at the '2022 The Fact Music Awards'.
'The Fact Music Awards 2022', considered the all-time representative lineup, was televised online in Japan, Taiwan, Thailand, Philippines, Indonesia, and Malaysia on the same day. In Korea, it was streamed live through the mobile web and PC of 'Idol Plus,' a platform specializing in idols as well as offline.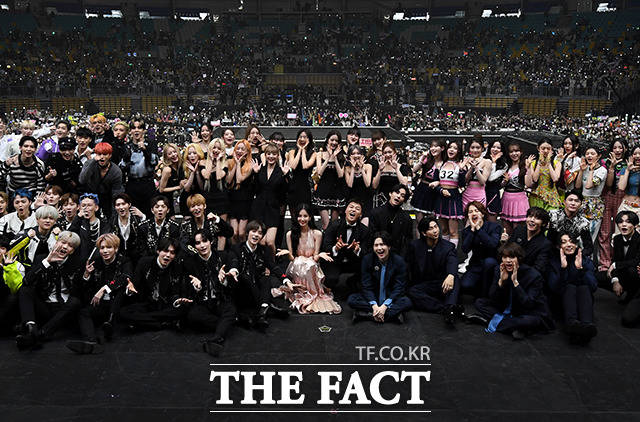 THE FACT MUSIC AWARDS RESULTS SUMMARY 2022
Daesang: BTS | Bonsang Artist Of The Year: TREASURE, TXT, ITZY, PSY, IVE, ATEEZ, Kang Daniel, (G)I-DLE, The Boyz, Lim Young Woong, Stray Kids, NCT Dream, BTS | Next Leader Of The Year: NewJeans, LE SSERAFIM, IVE | Hottest Award: TNX, Kep1er | Worldwide Icon: NCT Dream | Best Performer: NCT Dream, ATEEZ | Hot Stage: PSY | Listener's Choice: NCT Dream | LG U+ Idol Plus Popularity Award: BTS | Fan N Star Choice: Jin, BTS | Fan N Star Global: BTS | Fan N Star Four N Star: Stray Kids | Fan N Star Angel: Kim Ho Joong, Young Tak, Lim Young Woong | Fan N Star Trot Popularity: Lim Young Woong | Fan N Star Best Ads: Lim Young Woong | Fan N Star Most Voted: Hwang Chi Yeul, BTS, Lim Young Woong.