Appeared on 'Radio Star' on the 19th, "I will do a lot of variety shows... Please watch comfortably".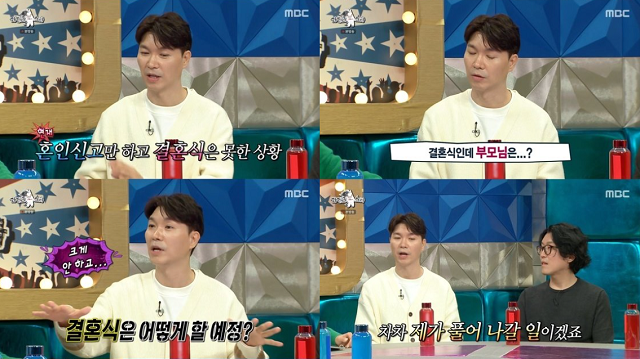 Source: Recording of MBC's 'Radio Star' video
[The Fact ㅣ Reporter Lee Han-lim ] Announcer Park Soo-hong appeared on 'Radio Star' and expressed his sincere feelings.
Park Soo-hong appeared as a guest on the MBC entertainment program "Radio Star", which was broadcast on the evening of the 19th. In the broadcast of this day, Park Soo-hong revealed many things. he is going through recently, such as his newlywed life with his wife who got married in July, court battles with his brother, and conflicts with his parents.
First, Park Soo-hong said, "I think it's great for everyone to be successful before. True success is when I wake up in the morning and when I wake up, I have a loving wife, and Da Hong-i (Park Soo-hong's cat) always sleeps under the bed. I didn't know this was a success." He shares the sweet things of newlywed life.
He continued, "Currently, we are only registered for marriage and cannot hold weddings due to various reasons. So we are preparing for the wedding." He continued, "I won't do it much, but I will only have people I'm grateful for. I want to," and was surprised to learn that he was getting married.
However, to the question MC Gook-jin Kim, who said, "My parents are at the wedding", replied, "It's heartbreaking, but it's something I'll have to deal with gradually. Time will tell."
In addition, Park Soo-hong also shivered slightly when asked about her current condition on the broadcast that day. Coincidentally, the program 'Radio Star,' that was broadcast that day was filmed the next day after Park Soo-hong appeared in court to receive an investigation with his brother who was accused of embezzlement but was arrested. His father assaulted him and drove him to the hospital.
Park Soo-hong said, "You know. In the news," he said, "Now I have to do a lot of variety shows. I've been to a lot of other places. Before today's recording, my wife told me not to cry and to make me laugh a lot." "There are good things to going through a crisis. I thought I was on my side, but I knew exactly who I was and what I am. the nobody."
Finally, Park Soo-hong shared her plans for the future. He said, "Please watch it comfortably. I hope that I can be funny in the future by appearing on variety shows. I will live by repaying the people I am grateful for."