Discuss the contract-compensation regime and "Building a fair environment".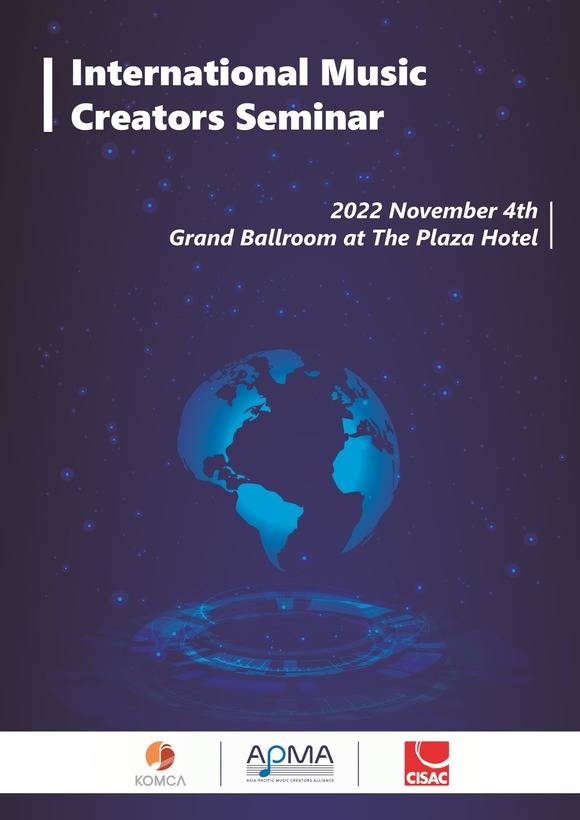 Source: Provided by Haneum Low Hyup
[The Fact /Reporter Jung Byung Geun] The conference "International Music Creators 2022" will be held at the Grand Ballroom of The Plaza Hotel in Jung-gu, Seoul at 2 o'clock (KST) on November 4.
The event is organized by the Asia Pacific Music Creators Federation (President Yoon Myung Sun, Asia Pacific Music Creators Alliance, hereinafter APMA), and the Korea Music Copyright Association (Additional Chairman, the Association of Music Copyrights). Music Copyright Association of Korea) and the International Federation of Copyright Management (CISAC) held for the second time since May 2017.
This seminar chaired by Professor Hong Seung Gi of Inha University will be discussed two topics: Buyout (daily contract) and Private Copying Levy (personal copy compensation system).
Professor Alice Lee of the University of Hong Kong, vice president of Asia Pacific Music Association Benjamin Ng, director of CIAC, president of the Thai Music Copyright Association Notapol Srichomkwan will participate in the daily contract.
Professor Lee Dae-hee of Korea University emphasized the necessity of applying this regime with the participation of the Vice President of the World Federation of Creative Music (CIAM), Chairman of the Asia Pacific Committee. Duong Satoshi Watanabe, Director of the Indian Music Copyright Association Lee Do-yeon and Puri Mayur.
President Yoon Myung Sun emphasized the significance of the workshop, "In the context of the rapidly changing global music market, the value of music and the rights of creators are decreasing. , music creators from around the world, including APMA, will once again gather ideas to build a fair creative environment."
The president of the Korea Music Association, said, "I am happy that the association is holding an international event again after five years. I would like to thank the officials from the countries who have visited Seoul. I hope This international conference will help creators around the world become one and overcome the crisis facing the copyright industry together."
On November 2 and 3, a regular meeting of the CISC Asia Pacific Regional Committee of the Korea Low Acoustics Association is scheduled to be held at the same venue.