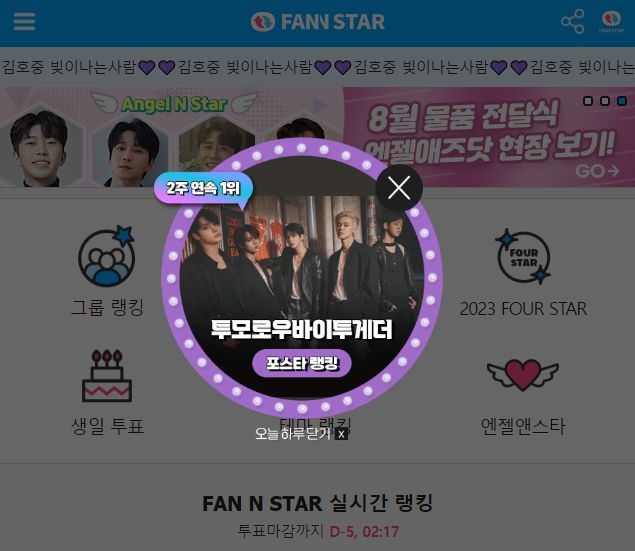 Group TXT has occupied the No.1 for 2 consecutive weeks on the Fourstar chart of the weekly idol ranking site Fannstar 2023.
TXT climbed to No.1 with 4,477,894 votes in the fourth week of October 2023 of Fan N Star which took place from October 24 to October 31. Next, Stray Kids won 2nd place with 2,628,982 votes, and ATEEZ ranked 3rd with 1,679,837 votes.
Four-Star Ranking 2023 is a vote for the most influential idols for fourth-generation idols. Fan N Star will show a video congratulating the artist on winning the Posta chart for 10 consecutive weeks at N Square, Hongdae station, Mapo district, Seoul. In addition, if they topped the chart for 30 weeks, they will conduct a rap advertisement on the Hongdae station wall and announce this news at the Lotte World Mall Jamsil chandelier, which has topped the chart for 50 consecutive weeks. If artists topped the 26w Hong Kong billboard, the Paris France billboard, and the 100-week billboard in a row, they will be congratulated through the Goyang Starfield Media Tower billboard.