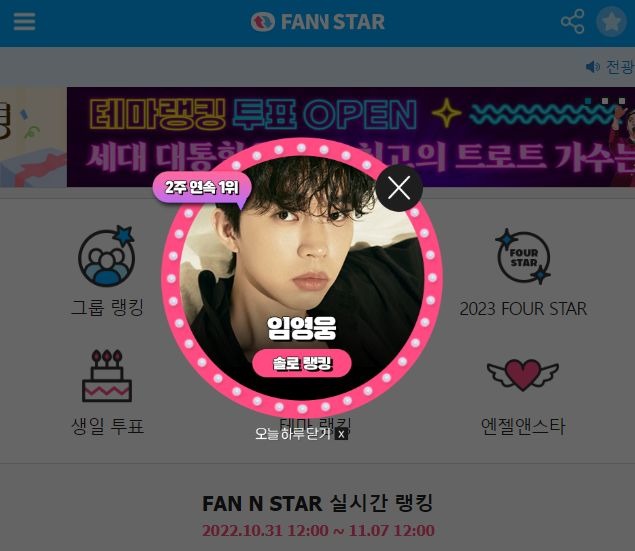 Singer Im Young Woong has occupied the No.1 for 2 consecutive weeks on the solo chart of the weekly idol ranking site Fan N Star.
Im Young Woong climbed to No.1 with 35,344,620 votes in the fourth week of "Fan N Star," which took place from October 24 to October 31. Next, Kim Ho Joong took 2nd place with 8,861,241 votes and Young Tak took 3rd place with 6,528,443 votes.
Fannstar will show a congratulatory video for No.1 on the N Square electronic chart at Hongdae station, Mapo district, Seoul. If the artist tops the solo chart for 10 consecutive weeks. In addition, if they top the chart for 30 weeks, they will conduct a rap advertisement on the Hongdae station wall and announce this news at the Lotte World Mall Jamsil chandelier, which has topped the chart for 50 consecutive weeks. If the artist tops the 26w Hong Kong billboard, the Paris France billboard, and the 100-week billboard in a row, they will congratulate through the Goyang Starfield Media Tower billboard.