Closing of the 7th London Asian Film Festival ... Won Ho-yeon's director, Jeong Tae-kyung, won the 'Best Documentary' award.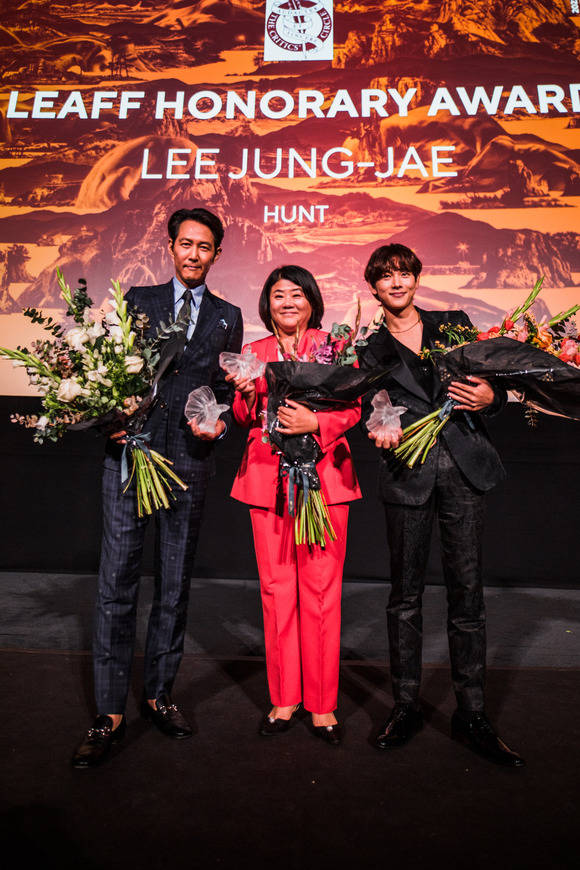 Source: Organized by the Organizing Committee London Asian Film Festival titles offered
[The FactᅵLee Han-lim] Starring Lee Jung-jae, Lee Jung-eun, and Im Si-wan lit up Korean films at the International Film Festival held in London, Brother.
Film festivals The 7th Asia London ended on the 1st (local time) with screening the end of the movie 'Warrior of Future' (China) in about a month.
At the festival, this film, Korean films, and actors won three awards and announced the status of K content to the world. In particular, Lee Jung-jae, who achieves Be not only as an actor but also as a director of the year has now received the 'Leaf's Honorary Award' in recognition of his achievements. Jung-jae Lee's "The Hunt" was also chosen as the opening film. this year's film festival.
Acting Awards the appearances of Lee Jung-eun and Im Si-wan also attracted attention. Lee Jung-eun won the 'Advanced Actor Award' for her lead role, 'Homage', and Im Si-wan won the 'Rising Star Award' for 'Emergency Declaration', She played an active villain.
In the film category documentary, directors Won Ho-yeon and Jeong Tae-kyung also won the 'Documentary' award for the best', illuminating the whole country of Korea. Directed by two directors, 'Rain Doesn't Touch the Ground' is a work that tells the story of immigrant children's undocumented identity from many Asian countries, including Taiwan, the Philippines, and Thailand.
Meanwhile, London Asian Film Festival is known as the typical Asian film festival of Europe, which invites more than 50 films from Asian countries, including South Korea, to enjoy with the London audience. This year, the 'Asian Film Awards for the first time first was founded in partnership with the London Critics Association, and The Best Film award went to 'Anima' by Chinese director Zhao Ling.