A character poster that makes you wonder about the story of the Great Patriotic War 3 years ago.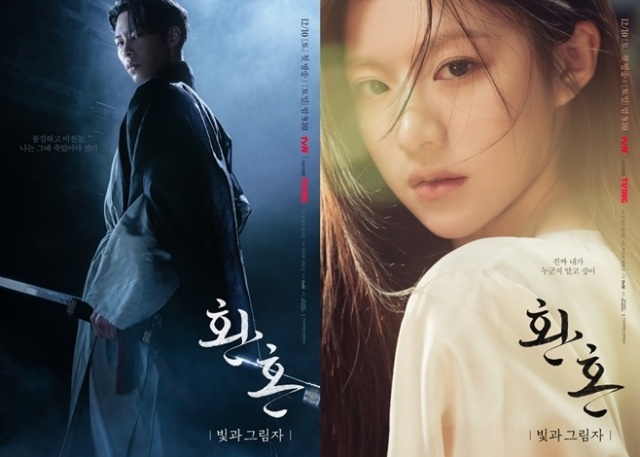 [The FactㅣReporter Kim Saet-byeol] The character posters of Lee Jae-wook and Ko Yoon-jung of 'Gwanhwa 2' have raised expectations for Season 2.
The production team of tvN's new Saturday drama 'Gwanhon: Light and Shadow' (hereinafter referred to as 'Gwanhon 2') has released character posters of Jang-wook (Lee Jae-wook) and Nak -soo (Ko Yoon-jung) who can glimpse the great country 3 years later on the 16th.
'Gwanhwa 2' is a fantasy romance story in which the main characters whose fates are disturbed due to the soul-altering marriage magic overcome and develop on the backdrop of a great nation. does not exist in history or maps. Season 2 tells the story of Jang-wook (Lee Jae-wook), who came back from the dead alive, and the new magicians three years later.
Character posters of Lee Jae-wook and Ko Yoon-jung, who are represented by light and shadow in the play, draw attention just by looking at them. Lee Jae-wook's character poster captures the aura of a monster-catching monster, like the 'survival returned from the brink of death' modifier.
Standing alone in the fog, Lee Jae-wook was staring at somewhere intensely. Lee Jae-wook's monstrous eyes were like those of a monster as if his only instinct was to survive, and the force that wielded the sword was so intense that it was terrifying. In particular, through the saying, "The man is scary and crazy. I should have died at that time", the story of Lee Jae Wook, who survived the fire and returned from the fire after 3 years aroused more curiosity.
Go Yoon-jung's character poster shows mystery. Go Yoon-jung aroused admiration with her unrealistic image as if she were the embodiment of a red rose. The line "I want to know who I am" and the deep eyes hiding a secret story stimulate viewers' curiosity. As a woman with amnesia about Nak-su's face, the story of Go Yoon-jung and her identity hidden in a veil has attracted attention.
In particular, attention is drawn to the relationship between light and darkness, a woman with amnesia about Jang-wook and Nak-soo's faces, and the subtitles of season 2 of 'Haunted Marriage. '. Jang-wook's name is Shining-wook (煜), and Nak-su's real name, Joyeong, means dark spirit (景).
In other words, like light and shadow, their relationship is like an inseparable destiny. It arouses curiosity about the relationship between the two, who seem to be a ray of sunshine in Jang-wook's deep darkness.
Season 2 of 'Hwanhon' will be broadcast at 21:10 on December 10.