The first release is on the 28th at 7 pm.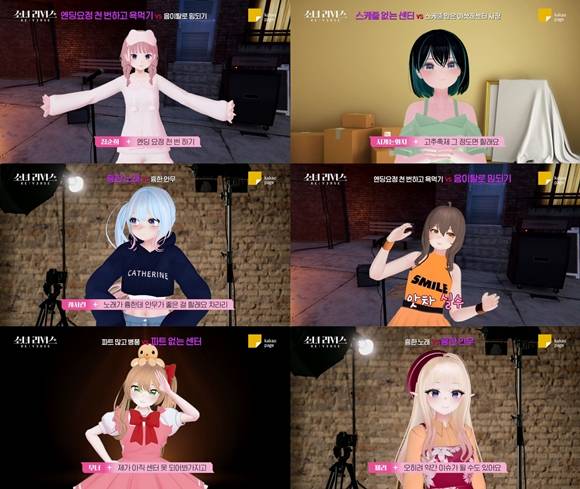 Source: Provided by Kakao Entertainment
[The Fact|Reporter Park Ji-yoon] The virtual girls of 'Girl Reverse' showed a strong will to debut through a balanced game.
Kakao Entertainment recently released a video of the virtual characters' balancing game before the survival battle through the official SNS of the survival debut virtual idol 'RE: VERSE'.
'Girl Reverse' is a survival entertainment program in which 30 real-life K-pop girl group members compete for the chance to debut idols in the virtual world. Participants completely hide their identities in the real world and showcase their dancing and singing skills, talent, and star-like charisma through new virtual characters, while competing fiercely for became the last 5 members to debut.
Among them, the video released on this day attracted attention as virtual girls immersed themselves in various balance games in which they had to choose an answer in a difficult situation.
The virtual characters are humorous in response to tough questions such as 'being the center of a girl group without a schedule compared to being the master of a moving center with a tight schedule, 'I am the only ending fairy being criticized for doing a thousand things. many times more than being a meme for leaving sound during a live broadcast', 'an ugly song versus an ugly choreography', etc. Answer a lot and convey interest. In addition, each answer contains the girls' sincerity towards the debut, making them extremely hopeful for the survival that will take place.
In particular, assuming the virtual girls have 'debuted as virtual idols', they will immerse themselves in the situation of the question and cause laughter. In response to the question of choosing a center with a rich part but without a folding screen compared to a center without a part, Seoritae said, "My parents like it when I have a lot of voices in the song."
On the other hand, dopamine says, "It's the unconditional center," and Rue honestly says, "I haven't tried the hub, so I'll choose the center." Although the answers were different, they all drew attention when expressing their strong desire to 'debut virtual idols'. In addition, the girls conveyed their will to debut and that they could accept any situation if they could debut as a virtual girl group even with a somewhat exaggerated background, showing their passion. that they will display in the future survival process.
'Girl Reverse' will be released for the first time on Kakao Pages and YouTube at 7:00 pm on the 28th, and the main story will be released every Monday at 9:00 pm.