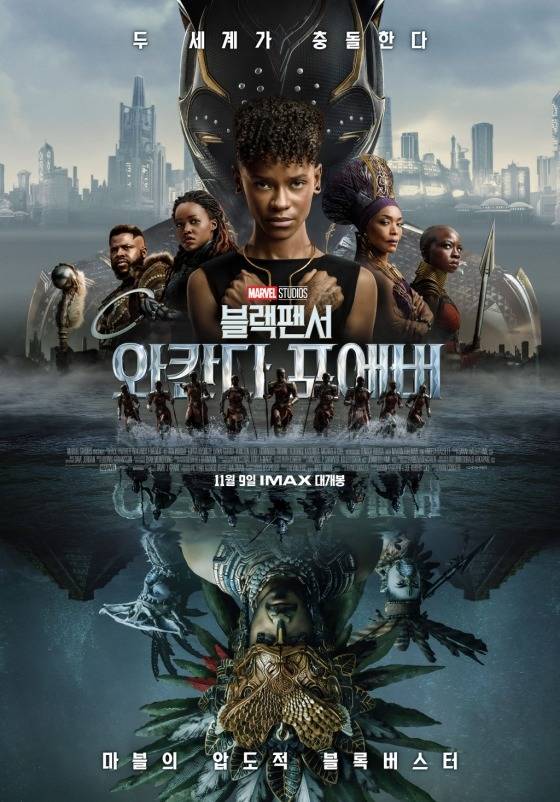 Source: Courtesy of Walt Disney Company Korea
[The Facts | Reporter Choi Seung-jin] The Hollywood movie 'Black Panther: Wakanda Forever,' released on the 9th, took first place in the film chart. The Korean movie 'Decibel', released on the 16th, is following closely behind.
On Sunday, the 20th, according to the cinema ticket aggregator network of the Korea Film Promotion Commission, 'Black Panther: Wakanda Forever' topped the box office as of the 19th. The cumulative audience for the film This reached 1,600,158.
'Black Panther: Wakanda Forever' is a blockbuster that heralds the birth of a new guardian and a battle to protect Wakanda, critically endangered following the death of T'Challa, the king of Wakanda.
'Decibel' is an acoustic terrorist action film about a bomb designer (Lee Jong-seok) who wants to take over the city center with a special bomb that explodes as soon as the noise gets louder, and his target, a former Vice Captain of the Navy (Kim Rae Won). Director Hwang In-ho holds a loudspeaker. The two main characters, Kim Rae-won and Lee Jong-suk, Jung Sang-hoon, Park Byeong-eun, Jo Dal-hwan, Lee Sang-hee, and Cha Eun-woo appear. The cumulative number of viewers is 356,928.
Korean movie 'Sympathy' ranked third after 'Black Panther: Wakanda Forever' and 'Decibel'. The cumulative audience for the film released on the 16th was 238,484. 4th and 5th place respectively belong to the Hollywood movie 'Fall: 600 Meters' and the Korean movie 'Everything Everywhere All At Once.'