Singer Hyenn (Park Hye Won) will officially start the countdown to the comeback date when releasing the highlight medley of the new album containing various genres and colors.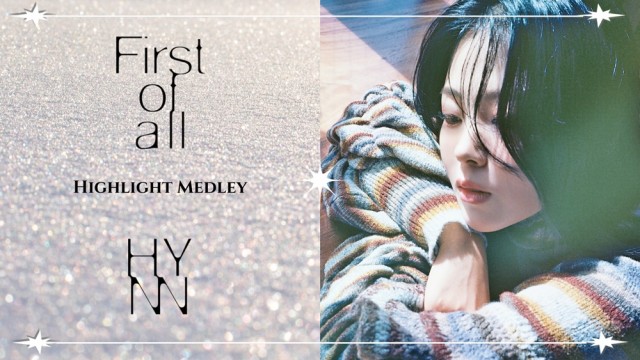 Photo New Order Entertainment
At 6 pm (KST) on the 21st, Park Hye Won will announce the highlight medley for her first full album, "First of all," through the official YouTube channel.
Hyewon's first full album, "First of all," is an album that synthesizes diverse moments of intense love like "first" with common feelings that everyone can empathize with. The album contains 11 tracks with various genres and concepts.
In this highlight medley, HYN (Park Hye Won) is expected to bring a "special combination" when collaborating with many talented artists while delivering delicate and beautiful emotions as well as high notes exploding before.
First, in "Sweet Love," Hyewon completed a beautiful harmony with the onion - the legend of Korean R&B Ballad - the musical senior and the ideal model she respects the most. In the show You Are My Life, the female singer collaborated with the pure Harmony of the children's choir. Next, through "My Love", the male singer is expected to sing a duet with singer Car The Garden and describe the delicate feelings of men and women in love.
In the title song "Goodbye" (Feat. Cho Kwang Il), Hyena (Park Hye Won) is proud of her voice when aiming for the top. Here, rapper Jo Kwang Il left a deep resonance with a gentle ending and explosive rap. In the title song, "The Final Line" (RUN), the female singer is expected to perfectly show the rock genre and raise expectations when performing Hyenn's (Park Hye Won) signature solid voice.
In addition, "Sleepless Night Ver" is a re-compiled version with early morning emotions of the title song, "Goodbye." Besides, the song brings out a gentle and lyrical atmosphere, thereby vividly expressing sad feelings by adjusting the perfect speed.
Thus, through this new album, HYNN (Park Hye Won) plans to prove herself as a singer with a wide range when releasing many songs of various genres and diverse atmospheres. On the eve of the release of the highlight medley containing many charms, the expectation for the new album is increasing.
On the other hand, at 6 pm (KST) on the 23rd, Hyenn will release her first full album, "First of all," and hold her year-end solo concert, "First of all" at Blue Square Master Card Hall, Seoul for two days 10 11