Cousins ​​and couples somewhere... 'Between Sam and some'.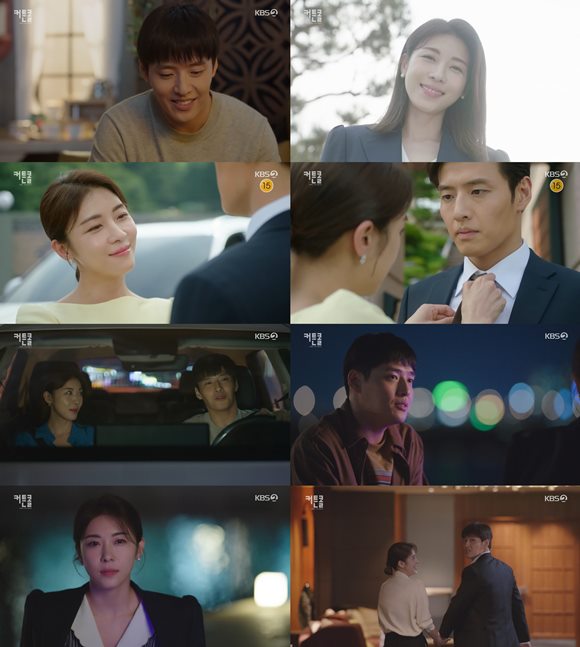 Source: broadcast screenshot
[The Fact|Reporter Won Sena] 'Curtain Call' Kang Ha-neul and Ha Ji-won are raising the bar with their close chemistry.
In the KBS 2TV Mon-Tuesday drama 'Curtain Call' (screenplay by Jo Seong-Jul, directed by Sang-ho Yoon), Jae-heon Yoo (played by Ha-neul Kang) attracts attention to the rogue life of a fake grandson (played by Ha-neul Kang). of Yoo Jae-heon), who is struggling to make the last wish of his terminally ill grandmother, Jang Geum-soon (played by Go Doo-shim) come true. Viewers' attention focuses on the confusing chemistry between Park Se-yeon (played by Ha Ji-won) and Park Se-yeon (played by Ha Ji-won) and the relationship between the characters. related object.
Younger brother Yoo Jae-heon and older sister Park Se-yeon, close cousins ​​and siblings who met in Geum Soon-soon's family, are giving viewers tension and excitement at the same time as a tight emotional battle. Until now, even after episode 6, Yoo Jae-heon is still active as the grandson of Geum-soon Geum-soon, because the metabolism scandal has not been revealed. In response, Park Se-yeon considers Yoo Jae-heon to be her younger brother, who was born and raised in the North. Yoo Jae-heon has a fake wife Seo Yoon-hee (Jung Ji-so) by his side, but his excitement for Park Se-yeon occasionally shows up.
In this development, the spectacular chemistry through the freely coming and going scenes between fights and fights captured attention. From sweet to luxurious, the diverse chemistry between Yoo Jae-heon and Park Se-yeon is giving the home theater a delightful appeal.
Granddaughter Park Se-yeon took her younger brother Yoo Jae-heon to Myeong-dong and the Han River, with her grandmother from day to night, at her grandmother's request to "show me around Seoul." On Yoo Jae-heon's first day, he showed kindness by directly fixing his clothes, and it wasn't enough to reveal his hiding place to Yoo Jae-heon.
Yoo Jae-heon is also repeating after hearing Park Se-yeon's heart. He touched Park Se-yeon's heart when he said, "You only take care of others, but you don't know how to take care of yourself." In particular, in episode 6, revealing that the two were both happy and reminiscing about their time together attracted attention.
Therefore, viewers are paying attention to the interesting relationship that will develop in the future with the spectacular chemistry between Yoo Jae-heon and Park Se-yeon. If Yoo Jae-heon opens his heart by relying on his cousin and discovers that he is a fake brother. Then curiosity about the future flow will increase about whether the development of the relationship romance will speed up or announce a breakup feeling deeply betrayed. In addition, attention is focused on how the anger and betrayal that will spread to Yoo Jae-heon will be shown when Park Se-yeon confronts Ri Mun-seong (played by Noh Sang-hyun), her real brother and grandson of Geum-soon Geum-soon.
In response, the production team 'Curtain Call' stated, "The puzzling chemistry between Yoo Jae-heon and Park Se-yeon provides a refreshing yet thrilling atmosphere throughout the work." Let's wait and see if the yellow light is maintained. Please pay attention to what kind of tension the appearance of real grandson Li Mun-seong will amplify."
Episode 7 of the KBS Mon-Tue drama 'Curtain Call,' which adds to the fun of watching the fight and chemistry between Kang Ha-neul and Ha Ji-won, will be broadcast on KBS 2TV at 9:50 pm on the 22nd.