Is that the pedigree of 'The Guy in Us,' 'Rampage,' and 'Uncharted'?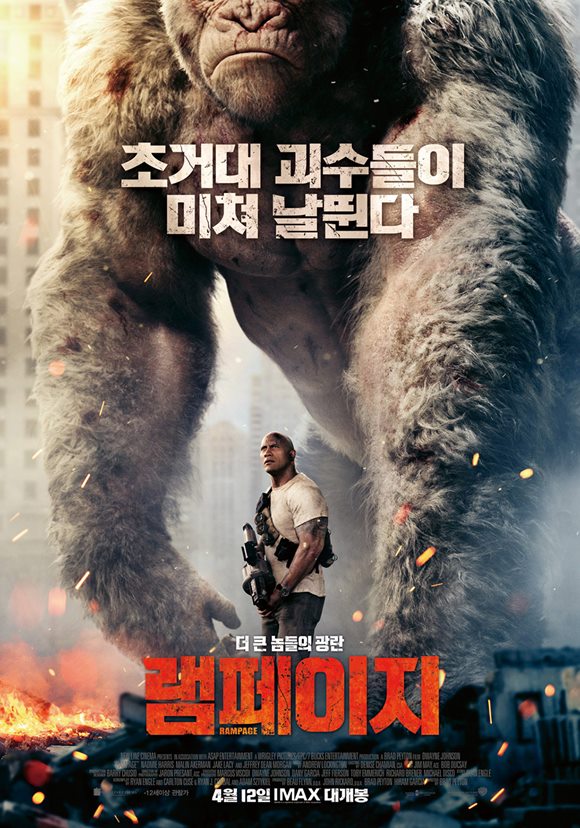 [The Fact |Reporter Won Sena] Movies based on games being adapted to the screen are attracting the attention of game enthusiasts and movie fans.
Recently released game-based movies only faithfully capture the entertainment of the game but also win the hearts of the general audience by providing excitement and spectacle far beyond the original.
First of all, the movie 'Rampage,' which was released in 2018, is a disaster blockbuster depicting a gorilla friend who has become a giant monster due to genetic experiments by the government and A zoologist's struggle to stop the monsters from going crazy. 'Rampage' means 'madness' that causes destruction and carries the connotation of a monster blockbuster depicting the madness of the big boys.
'Rampage,' based on the popular 1980s video game of the same name, is a story that happens when gorillas, wolves, and crocodiles appear in their largest size ever, as get bigger and bigger due to the side effects of the experiment.
Dwayne Johnson, Naomi Harris, and Jeffrey Dean Morgan are about to meet domestic audiences with the word "Black Adam," all of which are famous Hollywood actors. It is rated as a movie that implements the game well by showing breathtaking scenes and hot action sequences, drawing adventures and thrilling action that make you not know how time passes.
The PlayStation game 'Uncharted,' loved by users worldwide, was also reborn as a movie and loved by audiences. 'Uncharted,' which was released in Korea in February, is an action-adventure film that depicts the dangerous new challenges and choices that Nathan, who is tasked with finding the Unknown Treasure, will change the first world towards the unknown world.
'Uncharted' is a film based on the action-adventure game series that was released on PlayStation 3 and PlayStation 4 and has sold over 41 million copies worldwide. However, it is characterized by following the original story of the movie rather than following the story of the previously released game.