[The Facts | [Reporter Jung Byeong-geun] A high-class skinship took place in 'Eden 2'.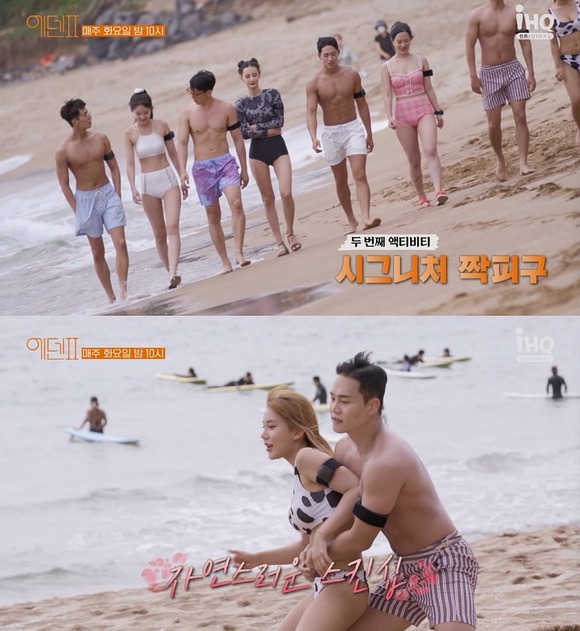 Episode 2 of IHQ love reality show 'Eden 2', aired on the 22nd, featured 8 young men and women, Kim Kang-rae, Kim Do-hyun, Kim Soo-min, Joy Gun, Lana, Son Seo-ah, Lee Seo-yeon, and Hyun Chae-hee, spend the first night at 'Eden House'. The performers, who were assigned beds according to the first power figure Lana's choice, surprised the MCs by showing a bolder skinship than Season 1 at the handball match the next day.
Eight young men and women went to the beach to play dodgeball, a typical activity of the 'Eden' series. Before the full match, young men and women apply sunscreen on each other's backs, creating a strange tension
The double dodge team is Kang Rae-Seo-A, Lee Geon-Lana, Do-Hyeon-Chae-Hee, and Su-Min-Seo-Yeon. Seo-yeon joked to Su-min, "Do you want to carry it on your back?" Su-min said, "Hold it like this," and put Seo-yeon's hand on his waist. Then he said, "Do you want to put your hands in your pockets?" Then MC Yoon Bo-mi said, "If you put it in your pocket, there's nowhere to keep it?"
When the game starts, the water level rises higher. Specifically, Seoyeon placed her hand on Sumin's chest, her finger placement was very delicate. Lee Hong-gi, who didn't miss this, was surprised when he said, "Why is his left finger there?" Shimizu said, "I'm looking for it." Finally, Bomi Yoon said, "Isn't this a game to find the top?" and made everyone laugh.
Kim Kang-rae and Son Seo-ah, who won the dodgeball match, had a proper date and did a couple of yoga in the sunset. The close skinship continued, and Lee Hong-gi said, "Focus is real."