MBC with Ahn Jung-hwan in front, smiling every day.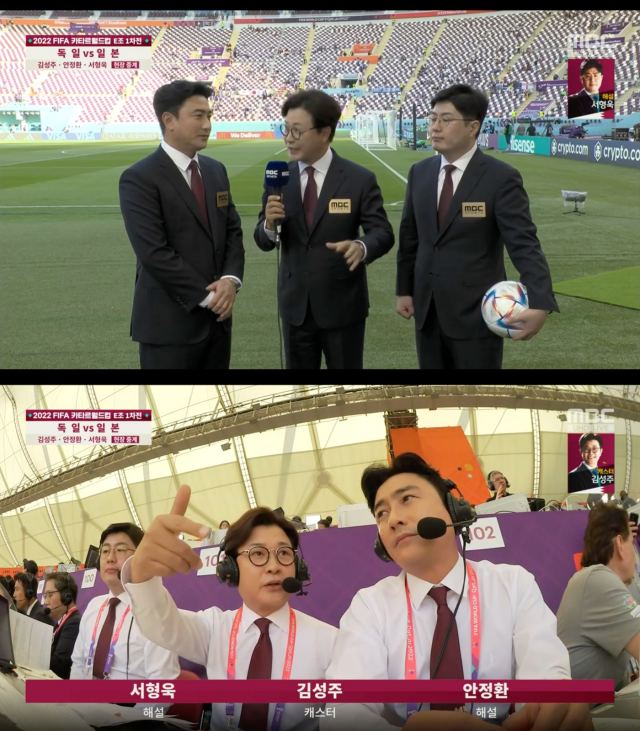 Source: Screenshot of MBC broadcast
[The Fact ㅣ Reporter Kim Saet-byeol] MBC also watched the World Cup 2022 group stage match between Germany and Japan and is taking the lead in the daily World Cup audience ratings competition.
According to Nielsen Korea, a viewership research institute, the group stage match of the 2022 MBC World Cup between Germany and Japan, broadcast on the 23rd, recorded a viewership rating of 10, 1% (hereinafter referred to as nationally based household). This is the only double-digit viewership rating among the three major broadcasters. SBS shows 7.5% and KBS2 shows 2.9%, respectively.
MBC, which has risen to the solo system in the World Cup relay, is considered to have succeeded in bringing joy and information to the viewers at the same time with the perfect cooperation of caster Kim Sung-joo, An Jeong-hwan Ahn and Seo Hyung-wook, excellent commentators, and broadcasters.
In the first leg of Group E of the 2022 Qatar World Cup group stage held at Khalifa Stadium in Qatar on that day, Japan won 2-1 against Germany. With this, Japan made the second surprise after Saudi Arabia, the protagonist of the first loss in the last match against Argentina, and won three points.
After a painful defeat to South Korea at the 2018 World Cup in Russia, Germany was unable to avenge an Asian team after 4 years.
Germany is off to a bad start. In the 31st minute of the first half, German striker Raum was awarded a penalty and Gundoan, who started the free kick, calmly scored to make it 1-0.
At the beginning of the second half, Japan changed tactics by making large substitutions 30 minutes into the second half, the player's powerful shot to replace Minamino was blocked and bounced by goalkeeper Neuer, and Doan scored the equalizer. Eight minutes later, Asano, playing in the Bundesliga, picked up the ball on a counter-attack and scored the goal from behind with a tight right-footed shot. Japan then blocked the all-out German attack and won another cataclysm.
In response, commentator Ahn Jung-hwan analyzed this loss: "Germany could not save a single chance. The failure to score the decisive goal showed the absence of a striker."
Regarding Japan's victory, he said: "The fact that Japan didn't shake even if it lost points shows how good Japanese management of the game is. It was a complete success for Japan that was prepared to allow Germany to be a model."
In particular, commentator Kim Seong-joo said, "From Saudi Arabia yesterday to Japan today, it is a boom from Asian countries. I hope Korea will continue to source energy. this until tomorrow", raising expectations for the first leg match between Korea and Uruguay on the 24th. soaring
The first leg match of Group H between Korea and Uruguay will be broadcast from 8:30 pm on the 24th.