Released 1st solo album on December 2 ... Gorgeous with producer 'Eyes.'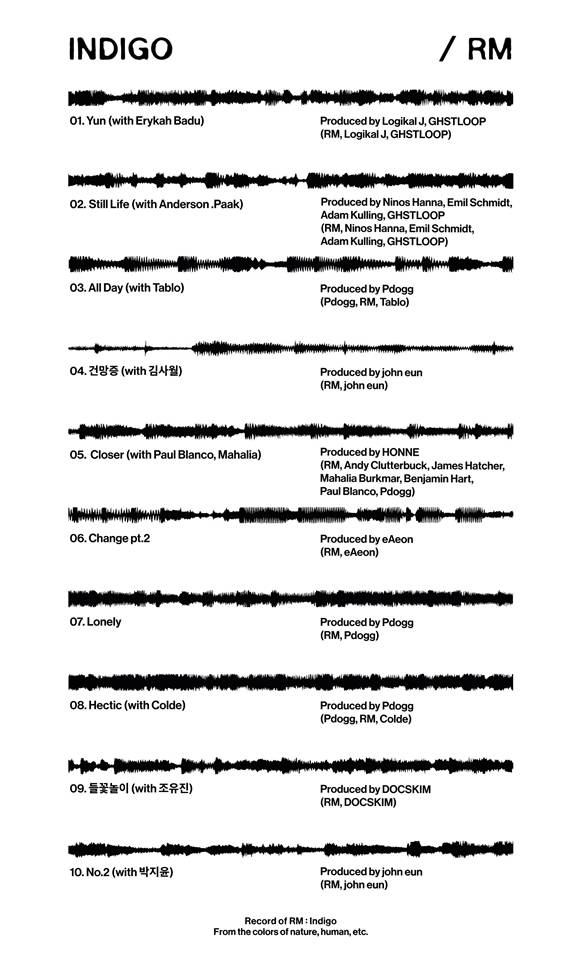 [The Fact/ Reporter Park Ji Yoon] The tracklist for RM's first solo album (BTS) has been revealed.
On the 25th, through the official SNS, RM published a tracklist photo listing b-side songs on the album "Indigo." The photo attracts attention when filled with 10 tracks, including the title song, "With Jo Yoo Jin."
The title song, "With Jo Yoo Jin," contains RM's wish to live with the image of gentle wildflowers rather than a bright but quickly disappearing flame. With the participation of Jo Yoo Jin - the vocalist of Cherry Filter, DOCSKIM participated as a producer, thereby reviving the beauty of the song.
In addition, the female singer is also known for famous songs such as "Erykah Badu", "Anderson Paak", "Tablo" by Epik High, "Mahalia", "Paul Blanco", "Colde" and "Singer" by Park Ji-yoon".
In addition to DOCSKIM, brilliant producers such as Pdogg, Honne, EAeon, and Eun Hee Young also attracted attention.
Pdogg is in charge of producing the songs "All Day," "Lonely," and "Hectic". British electronic music duo Yunne collaborated on RM's Mono mixtape 'Seoul. 2 songs produced by Paul Blanco.
In addition, RM also led the entire album production process and collaborated with many other artists in the fields of music and art. Through the previously published photo of Indigo, the male singer drew attention when he was able to confirm the natural and attractive combination between the work "Blue" by the late artist Yoon Hyung Geun RM and the male singer whom he has always respected.
Thus, the song "Indigo," containing traces of RM's life and thinking will be released on December 2.