"More than perfect acting coordination"... First broadcast on December 19.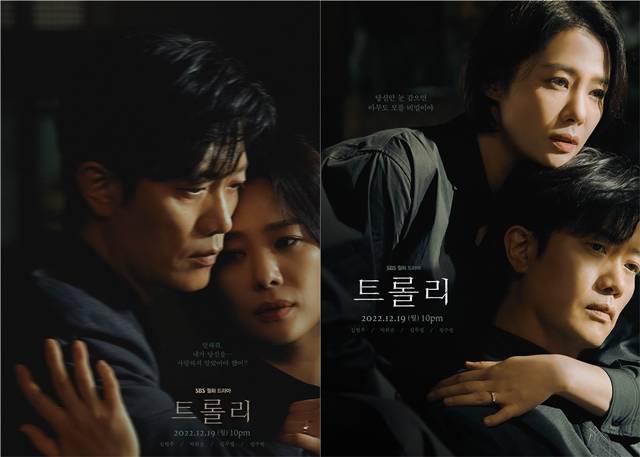 Source: Provided by Studio S
[The Fact|Reporter Park Ji-yoon] Kim Hyeon-joo and Park Hee-soon from 'Trolley' raise expectations by anticipating a melodrama with a different dimension.
On the 25th, the production team of SBS's new Mon-Tue drama 'Trolley' (scriptwriter Ryu Bo-ri, directed by Kim Moon-gyo) released two main posters. Kim Hyun-joo and Park Hee-soon complete the story with just their eyes, making them curious about the secret that causes the rift in the perfect couple.
The work is a melodrama emotional dilemma, describing the story of a congressman's wife, who lived while hiding her past, to be revealed to the world.
Kim Hyun-joo takes on the role of Kim Hye-joo, a bookmaker who specializes in repairing damaged books, and the wife of Nam Joong-do (played by Park Hee-soon), a member of the National Assembly. Wanting to lead a normal life, she never reveals herself as the wife of a politician. However, through an unexpected incident, a long-kept secret is revealed, and he is a person who has to face crisis and upheaval in his life.
Park Hee-soon plays Nam Joong-do, a former lawyer and re-elected member of the National Assembly, and the husband of Kim Hye-joo. Always working hard to represent the less fortunate in society, he separated Kim Hye-joo's life from his political activities to keep his promise to his beloved wife rather than achieve. his big dream as a politician. Then one day, Kim Hye-joo's unexpected secret is revealed to the world and reaches another turning point.
Among them, the main poster released on this day attracts attention as it features Kim Hye-joo in Nam-jung's arms. In particular, while both of their gazes shifted, 'Tell me. Don't you... love me?'
Also, in another poster, Kim Hye-joo and Nam Jung-do are showing empty and lonely expressions. Even though they were looking at the same place, complex anguish and tangled emotions all passed through their empty eyes. At this point, the answer 'It's a secret no one will know if you close your eyes' aroused more curiosity. What is the secret that moves two people who have promised eternal love with unwavering faith, and those who have another secret who want to hide it are interested in their choice?
The production team stated, "The meeting between Kim Hyun-joo and Park Hee-soon is the reason to wait for 'Trolley' and the best spot to watch.
'Trolley' is a collaboration between director Kim Mun-gyo, who starred in dramas Stove League' and 'Hong Chun-gi', and writer Ryu Bo-ri, who wrote 'Do you have do you like Brahms?' It will be broadcast for the first time at 22:00 on December 19.