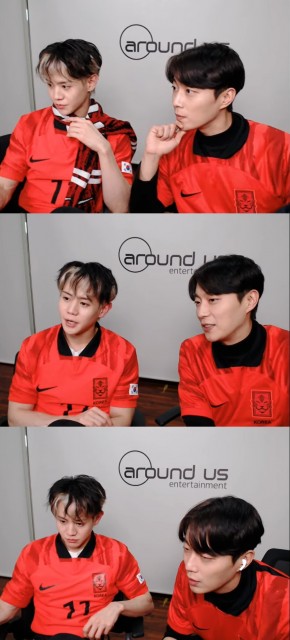 Photo: Around Us
Group Highlight showed the sincerity of a "singer for football."
On the 24th, via Highlight's official YouTube channel, Yoon Doo Joon and Yang Yo Seob directly announced the song "Immedia" of the match between Korea and Uruguay in the first match of Group H of the FIFA World Cup Qatar 2022 group stage.
Yoon Doo Joon and Yang Yo Seob wore national football team uniforms and transformed into "red devils" to provide professional information containing information about this World Cup, and at the same time, easy and friendly live broadcast. better for the fans. Then, watch the match between Korea and Uruguay during the past time and enthusiastically cheer for the Korean players with special focus and concentration.
The live broadcast, which lasted for about 3 hours, recorded a live viewership of 12,000. As of 8 am (KST) on the 25th, the total number of views has surpassed 190,000 views after only 11 hours of streaming. This number is equivalent to the number of viewers who simultaneously broadcast live on YouTube of terrestrial television stations, thereby showing Highlight's special heat.
Previously, Yoon Doo Joon received attention when sharing his witty thoughts, "We will return to the Korea and Uruguay World Cups after finishing the promotional activities for the title song "Alone" in the mini. album vol.4 After Sunset". Yoon Doo Joon captured all the support and interaction of the audience through the "Live Broadcast" of Korea's first World Cup match with Yang Yoseob and kept that promise.
Even in the World Cup matches that will continue to take place, Highlight's active activities will bring joy to football and music fans.
Recently, Highlight released the mini-album vol.4 AFTER SUNSET and actively worked with the title song "Alone". Highlight's solid live performance and special love for fans opened up various stages and content, thereby receiving enthusiastic responses from music shows.
Highlight members will continue to interact with fans in various ways.