Park Hyeong-sik transforms into a crown prince, broadcast on February 6.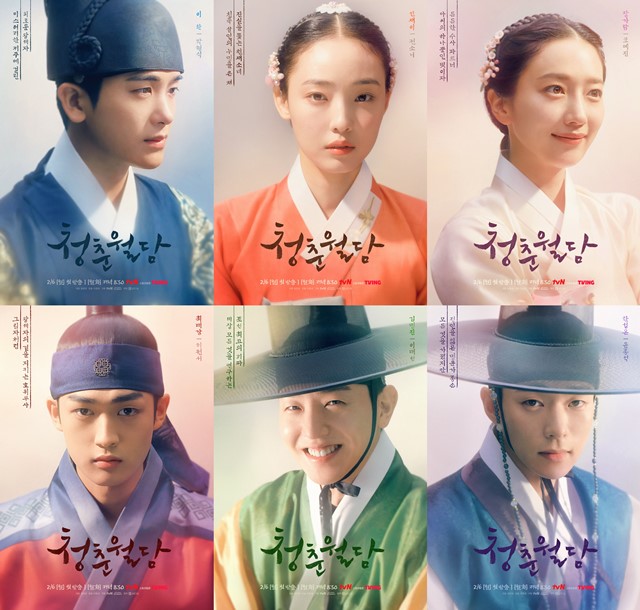 Source: provided by tvN
[The FactㅣReporter Kim Saet-byeol] Character poster showing Joseon's mature personality in 'Our Blooming Youth' is attracting attention.
The production team of tvN's new Mon-Tue drama 'Our Blooming Youth' (scriptwriter Jeong Hyeon-jeong, director Lee Jong-jae) has released character posters of actors including Park Hyung-sik and Jeon So-ni.
'Our Blooming Youth' is a romance about the redemption of youth, telling the story of a prince who is under a mysterious curse and a genius girl who is shown to be the culprit of a crime family murder.
Published character posters showcasing each story are given to six men and women who will work together towards the same goal.
First, the appearance of Crown Prince Lee Hwan (played by Park Hyung-sik) attracted attention. While boasting about his dignity as a crown prince with Gonryongpo and Ikseongwan, his eyes are filled with melancholy, making us more curious about the reality of the anonymous curse that worries Lee Hwan.
In the upright gaze of Min Jae-yi (played by Jeon So-ni), a genius girl who pursues the truth while being blamed for the murder of a loved one, you can see that an upright spirit won't be easy succumb to any difficulty. It leaves a question mark as to whether he can reveal the facts regarding his family's death and prove his innocence.
Min Jae-yi, who has suddenly become a murderer, also has helpers. The main character is Jang Ga-ram (played by Pyo Ye-jin), Min Jae-yi's only friend and trusted partner in the investigation. He intends to promote his pursuit of truth by sharing his friendship that transcends social status with Min Jae-yi.
Han Seong-on (played by Yoon Jong-seok), Min Jae-yi's fiancée and Lee Hwan's friend, must also be embarrassed by the murder charge against him. The phrase 'descendant of a prestigious family who had it all but lost a lover' represents his unfortunate situation, in which even the fate of his fiancé is unknown.
Kim Myeong-jin (Lee Tae-seon), the most passionate person in Joseon who studies everything in the world, amuses with his humorous expression. In particular, Kim Myeong-jin predicts the birth of a unique teacher-student relationship with Min Jae-yi's helper Jang Ga-ram, and curiosity about the harmony between the two men and women. happy female is increasing.
Finally, Choi Tae-gang (played by Heo Won-seo), a bodyguard standing beside the crown prince like a shadow, shows his dignified appearance. Tight lips and strong eyes filled with loyalty to Lee Hwan add to our expectations for his performance to protect his master in all difficulties.
'Our Blooming Youth' will premiere on February 6.