Expect a 3rd U.S. tour.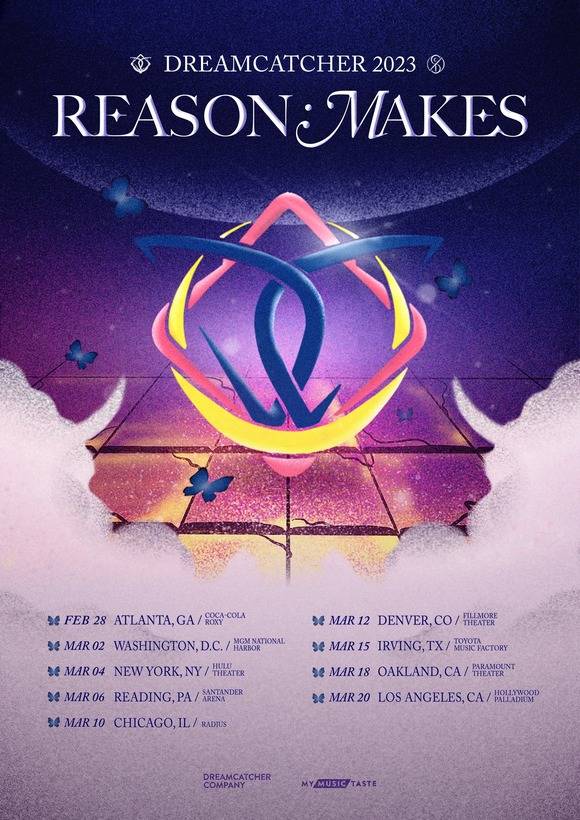 Source: Dreamcatcher company
[The Fact/Reporter Jung Byung Geun] Dreamcatcher will be touring 9 U.S. cities in 2023.
On the 18th, through the official SNS channel, Dreamcatcher (JYoo, so Ah, Siyeon, Han Dong, Yoo Hyun, Dami, Ga Hyun) announced the organization of a US tour called Reason: MAKES DREAMCATCHER 2023 taking place within 1 month from February 28 to March 20.
According to the announced schedule, Dreamcatcher is scheduled to tour 9 U.S. cities, starting in Atlanta on February 28 and New York on February 4, Reading on February 6, Chicago on the 10th, Denver on the 12th, Irving on the 15th, Oakland on the 18th and Los Angeles on the 20th.
Dreamcatcher, who has been on his first world tour in Jakarta, Indonesia since his debut, has gradually expanded its tour to South America, Europe, and the U.S. and achieved global growth. In particular, at the time of the US tour after about 3 years in June last year, he sold out in many cities such as LA, New York, Louisville, and San Francisco, and boasted a ticket sales rate of 92% of the entire show.
Not only that, but Dreamcatcher also shows viewers dazzling performances and genres, filled with joy to watch on each tour. In addition, the group actively interacts with local fans through promotional activities.
Recently, to celebrate the 6th anniversary of its debut, Dreamcatcher has brought a special gift to InSomnia at home and abroad through the release of the special single Reason, which is expected to meet fans with a variety of exciting activities this year.
Details regarding the ticket sales of the Reason: MAKES DREAMCATCHER 2023 album can be found on Dreamcatcher's official SNS channel and My Music Taest.