I have fond memories of the beach and the skating rink... 2.8% rating recorded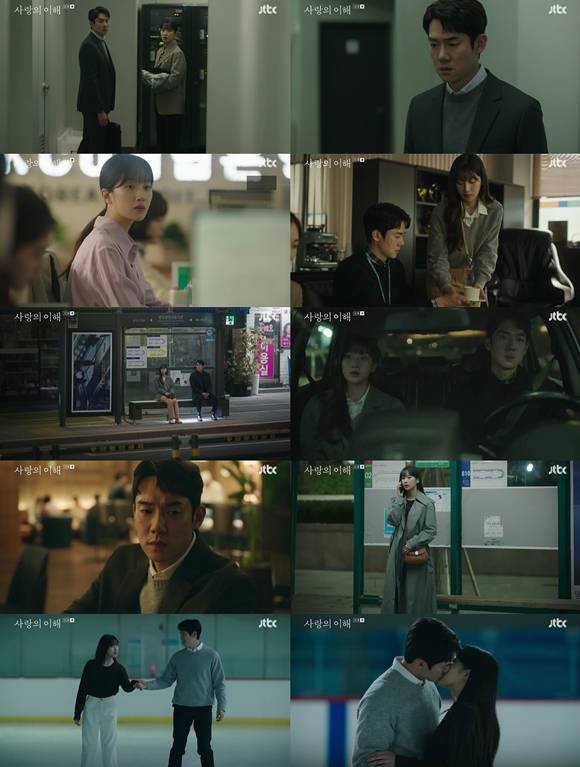 Source: Screenshot of broadcast
[The Fact |Reporter Park Ji-yoon] 'Knowledge of Love' Yoo Yeon-seok and Moon Ga-young confirmed their feelings for each other with a kiss without hesitation.
According to Nielsen Korea on the 20th, the 10th episode of the JTBC Wed-Thu drama 'Knowledge of Love' (written by Lee Seo-hyun and Lee Hyun-jeong, directed by Jo Young-min), broadcast on the 19th, recorded an audience rating of 2.8% (based on nationwide households). On this day, Yoo Yeon-seok and Moon Ga-young wowed viewers by revealing their sincerity in ending the ongoing conflict.
After spending time at the beach making each other's hearts flutter that day, Ha Sang-soo (played by Yoo Yeon-seok) and Ahn Soo-young (played by Moon Ga-young) try to return to reality. in. However, their minds had already begun to waver, making their heads dizzy, and a precarious tension lingered between the two.
Ha Sang-soo, who misunderstood that Ahn Soo-young was leaving the bank because of So Kyeong-pil's (Moon Tae-yu) prank, accidentally grabbed him and vented his heart out. Realizing the emotions that passed through him in an instant, he froze in place in embarrassment. Faced with her uncontrollable emotions, Ahn Soo-young feels the depths of Ha Sang-soo's heart towards her.
Among them, Ahn Soo-young revealed to Ha Sang-soo a secret she never wanted to know about her parents. In response, Ha Sang-soo gave Ahn Soo-young a special memory to help him forget his difficult days, and Ha Sang-su's kind consolation, which comforted him, did. fluttered Ahn Soo-young's heart again.
However, while going to the place where he had promised to meet Ha Sang-soo, Ahn Soo-yeong thought that the situation would not change even if she went to see him, and ended up walking away. . Ha Sang-soo, who saw Ahn Soo-young's back, immediately kicked him out and took him to the skating rink as if nothing had happened.
Receiving Ha Sang-su's skating lessons, Ahn Soo-young smiled brightly, forgetting everything like a child. Ha Sang-soo's eyes when looking at Ahn Soo-young suddenly showed affection. And he realized his mind, saying, "I mistakenly thought I was escaping, but I've returned to my place. In the end, I'm Ahn Soo-young again."
Next, Ha Sang-soo bursts into feelings for Ahn Soo-young, saying, "I can't do this anymore." Ahn Soo-young also grabs him as he approaches her like he won't hesitate any longer. Facing each other, the two confirmed their sincerity with a kiss.