Breaking his own record with a viewer rating of 21.3%.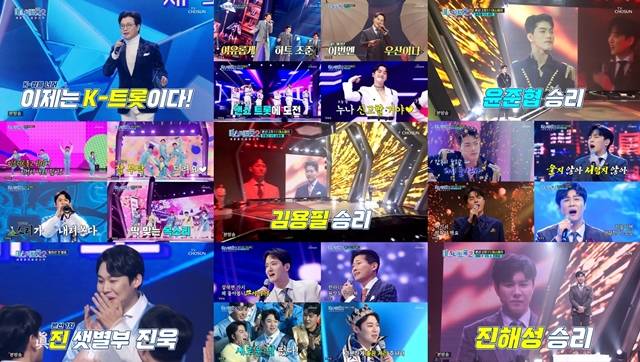 Source: Screenshot of broadcast
[The Fact|Reporter Park Ji-yoon] 'Mr. Trot 2' captivated home cinemas on Thursday night with an intense life-or-death showdown.
'Mr. Trot 2 - The Beginning of a New Legend' (hereinafter referred to as 'Mr. Trot 2') by TV Chosun, which was broadcast on the 19th, recorded a viewership rating of 21.3% (based on TV Chosun). households nationwide by Nielsen Korea) and continued its unstoppable run.
In today's episode, after the team mission in the first leg final, the one-on-one death battle was pulled up and captivated viewers. First, the class reps (Hwang Min-ho, Cho Seung-won, Kim Min-gun, Seo Geon-hoo) with an average age of 11.5 received 13 hearts for their 'resumé'. Namjin. Hwang Min-ho, who is highly regarded as the 'Michael Jackson of the trot world', has advanced to the next round.
The morning stars (Jin-wook, Young-gwang, Hwang Min-woo, Oh Chan-seong, Lim Chan) chose Jeong Il-song's "Love Love" which drew attention with the stage with negative elements. Korean traditional music such as goggwari and taepyeongso. Five contestants boasted perfect overall and received all the hearts.
Group A2 (Lee Do-jin, Choi Woo-jin, Park Seo-jin, Kang Dae-woong), who performed a performance that appeared to have switched a scene from the movie 'Kingsman', won 12 heart with 'Like' by Young Tak a gentleman'. Among them, only Kang Dae-woong, who showed off his active duty skills even in an unexpected situation that caused the headphones to fall off, was listed as a successful candidate.
After all the team missions were completed, Ha Dong-geun of active duty group B, Gil Byung-min of other categories and Park Seo-jin of active duty group A2 were accepted. significantly replenished and revived after the crisis was eliminated. Jin's protagonist in the first round of the finals returned to Morning Star's Jin-wook.
Then the curtain goes up for a one-on-one deathmatch in which one of the two must be eliminated. The first confrontation was Ha Dong-geun and Kim Yong-pil. Ha Dong-geun showed off his excellent trot skills with Yoon Bok-hee's 'Why Look Back', and Kim Yong-pil gave Kim Jeong-soo's 'You' as a drama-like impression. . In the confrontation between active skill and middle-age seniority, Kim Yong-pil won with a vote ratio of 15:0.
The fateful confrontation between Jaeha and Jin Haeseong caught the attention of viewers when it was called the preview final. Jae-Ha, who performed Kang Seung-Mo's 'Love', maintained his daring singing skills until the end with a stage free of any shakes or excesses.
Jin Hae-seong, who unexpectedly chose a song with 'Binari' by Sim Soo-bong, reinterpreted it in his own style and demonstrated a wide vocal range. The masters proved difficult to choose, but Jin Hae-seong won 11:4.