Announced visual of first solo album after debut
March 31, solo album 'ME' will be released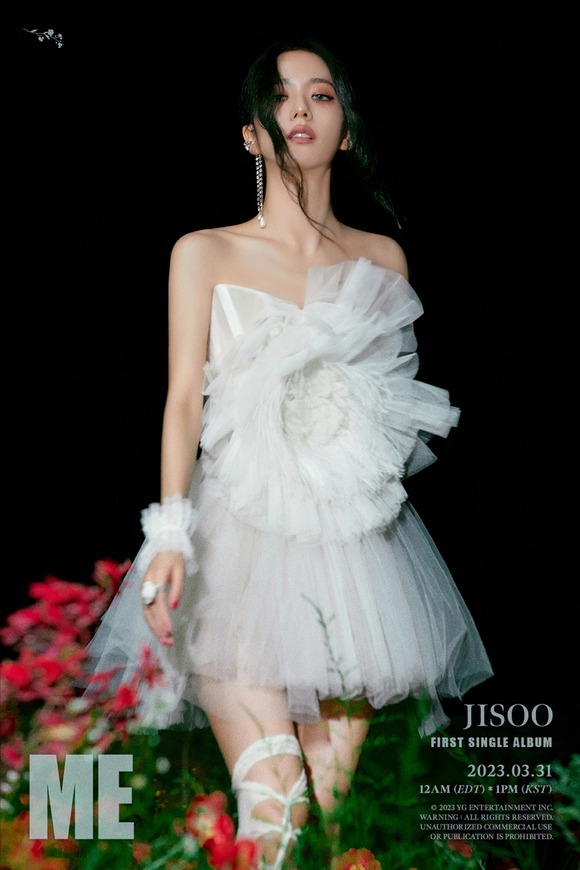 Source: YG
[The Fact reporter Jung Byung Geun] Jisoo (Blackpink) released the concept of the first solo album after debut with her elegant charm.
YG Entertainment posted on the official blog the title song JISOO - ALBUM TITLE POSTER #2. Previously, Jisoo captivated fans with her gentle makeup style and soft aura and vibrant red accessories, capturing attention with her unique charm completely different from her previous image.
In the photo, Jisoo wears a white-tone outfit that contrasts with the black background in the red flower field. Strong gaze and makeup using red shadows, looking straight ahead under fluttering hair.
Jisoo's heavy gaze and confident attitude gave off a strange sense of tension. In addition to the visual, specific information about the album has not been revealed, but the female singer showed her confidence when showing the inherent charm.
Jisoo will release her first solo album "Me" at 0:00 (US time) March 31 and 1:00 (KST) KST. YG said, "We've spent a lot of effort on this album for a long time to show the full variety of Jisoo. It is worth looking forward to a new musical color that has not been seen from hers".
Recently, Blackpink is conducting the world tour with the largest scale of a K-pop girl group with 1.5 million participants. After successfully wrapping up the 14th North American tour in 7 cities and the 10th European tour in 7 cities last year, the 4 members are meeting more fans on the Asian side.
In addition, the group will also perform on stage as the headliner at Coachella Valley Music and Arts Festival (USA) in April and Hyde Park British Summer Time Festival (UK) in July.