"Never believe that the golden prime is over."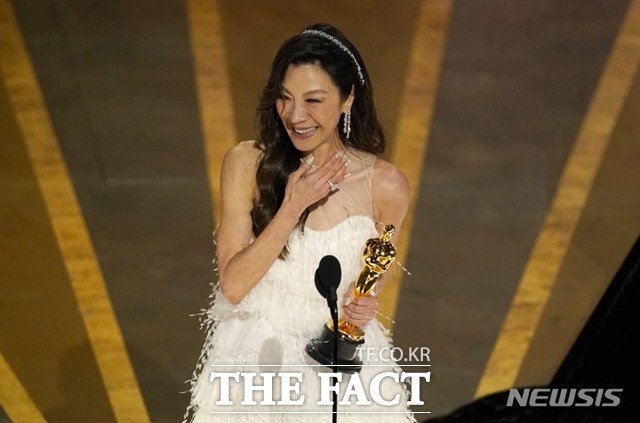 Source: Los Angeles - AP News
[The Fact|Reporter Park Ji-yoon] Michelle Yeoh is the first Asian-American actor to receive the Best Actress award at the Academy Awards.
Michelle Yeoh received the Best Actress award at the 95th Academy Awards held at the Dolby Theater in Los Angeles, the United States on the 13th (KST). She has competed against "Tár" Cate Blanchett, "Blonde" Ama de Armas, "To Leslie" Andrea Riseborough and "Fabelmans" Marchel Williams.
Marchel William said: "Thank you. This is a beacon of hope and possibilities. This is proof that dream big and dreams do come true. And ladies, don't let anybody tell you you are ver past your prime. Never give up!"
She continued: "I wouldn't be standing heretonight without Daniels withour A24, without my amazing cast and crew and ithout everyone involved "Everything Everywhere all at Once". I havr to dedicate this to my mom, all the moms in the world. Because they're eally the superheroes. And without them, none of us would be here tonight....."
'Everything Everywhere All At Once' (directed by Daniel Kwan and Daniel Scheinert) is the story of a multiverse Asian-American family, where she plays Evelyn, an immigrant who runs a laundromat.
'Oscar Awards' is the largest film awards in the United States, organized by the American Academy of Motion Picture Arts and Sciences (AMPAS). The awards ceremony was hosted by American comedian Jimmy Kimmel.