The crew: "Can't finish in a short time, decided to get off the bus after discussion".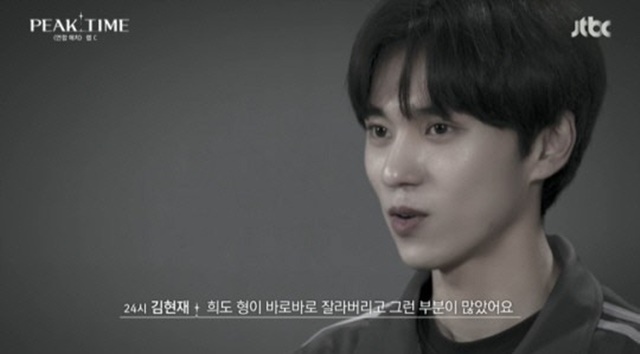 Source: Screenshot of broadcast
[The Fact|Reporter Won Sena] Kim Hyun-jae, who is suspected of committing school violence (school violence), has finally escaped from 'Rush Hour'.
On the afternoon of the 13th, the production team of JTBC's entertainment program 'Peak Time' made an official statement, "The production team wants to be careful in finding out the truth so that there are no victims of goodwill in this matter. . case where the statements of both parties contradict each other." After deliberating under the judgment that it is not a matter that can be clearly concluded within the deadline, Kim Hyun-jae has decided to leave the show."
He said: "Even at this point, all the participants are doing their best to prove their worth and protect the team. I will do my best."
Earlier, on the 6th, an online community posted an article exposing Kim Hyun-jae's school violence when appearing on 'Peak Time', causing controversy.
Mr. A, who identified himself as Kim Hyun-jae's elementary and junior high school students, testified that he was bullied by Kim Hyun-jae from the time he transferred to the lower grades of elementary school until he graduated from secondary school. Mr. A confessed that Kim Hyun-jae used abusive language and made him angry, and that his self-esteem had greatly decreased due to frequent bullying.
Regarding the reason for deciding to reveal, he added, "I started to get scared because of him trying to reveal himself again after idol activities were no longer regular." Then he called out, "Please help me pay the price."
As the controversy grew, the production team of 'Rush Hour' began to find out the truth.